R+L Carriers New Orleans Bowl

December 22, 2012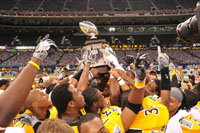 Who:
East Carolina vs. Louisiana-Lafayette
When:
December 22, 2012
Where:
Superdome
More Info:
Click Here
Come spend your Christmas holiday in New Orleans and catch some great live college football action when the Ragin' Cajuns of the University of Louisiana-Lafayette take on the Pirates of East Carolina University in the annual New Orleans Bowl being played on Saturday, December 22.
The Mercedes-Benz Superdome will be the site of this contest between the champions of Conference USA (ECU) and the Sunbelt Conference (ULL). The winner will take home to either Greenville, North Carolina or Lafayette, Louisiana the prestigious trophy and title of New Orleans Bowl Champions. Certified by the NCAA, this college football bowl game has been on the calendar since 2001 and is one of the earliest bowl games on the post-season schedule.
The game has been played at the Superdome every year except 2005 when it was temporarily moved to Lafayette's Cajun Field following Hurricane Katrina. It returned to New Orleans the following season and has been here ever since.
While considerably smaller than the Sugar Bowl, the New Orleans Bowl has steadily grown in size and popularity since its inception and is one of the top ten events in New Orleans in terms of economic impact. It typically has an attendance of approximately 30,000 fans and many visitors take the opportunity to enjoy the city in its holiday dress. Don't be surprised if you see Santa Claus (or several of them!) sitting in the stands next to you during the game.
Kickoff is at 11:00 a.m. (CST) and the game will be broadcast on ESPN and ESPN Radio.
Visitors are encouraged to book their travel arrangements well in advance. For more information on the New Orleans Bowl, visit www.neworleansbowl.org. For tickets go to Ticketmaster at www.TicketMaster.com or call 1-800-745-3000.
About the Teams
The Pirates, winners of five of their final six regular-season games, head to the postseason with an 8-4 overall record and 7-1 in the conference, tying for the East Division title. Long considered an NCAA powerhouse team, they have made six bowl game appearances in the last seven years and this will be their first trip to the New Orleans Bowl.
They bring to the game a quarterback, Shane Carden, who completed 2/3 of his passes for nearly 3,000 yards during this recently concluded season. They also feature a 1,000-yard rusher, Vintavious Cooper, and a 1,000-yard receiver, Justin Hardy.
On the other side of the ball, ECU's defense had 25 sacks, led by outside linebacker Derrell Jackson with seven. The Pirates have been opportunistic on defense and special teams with four returns for touchdowns this season.
The Ragin' Cajuns, winners of last year's New Orleans Bowl with a narrow victory over San Diego State, will be making their second bowl appearance. Led by sophomore quarterback Terrance Broadway, they had a 7-4 record going into their final season game.
Broadway, who completed 65 percent of his passes for 2,000 yards and 13 touchdowns, will also be handing off to Alonzo Harris who led the running game with 634 yards and five touchdowns going into the final contest. Broadway himself had already rushed for 473 yards and six scores in the first eleven games. Top receivers are Harry Peoples and Darryl Surgent, each with more than 500 receiving yards.
On defense, linebacker Justin Anderson led the Cajuns with over 80 tackles and free safety Rodney Gillis had a team-best four interceptions, which ranks second in the conference. The Cajuns also have a strong kicking game behind the right foot of Brett Baer, who kicked the game-winning 50-yard field goal as time expired in last year's R+L Carriers New Orleans Bowl. Baer leads the Sun Belt in scoring, field goals and punting average.
Bowl History
Since the New Orleans Bowl began in 2001, Southern Mississippi University and North Texas State University are tied for the most appearances in the game at four each. As the Sunbelt Conference representative, North Texas appeared in the first four bowl games, finishing with a 1-3 record. Southern Miss, repping Conference USA, is 3-1. Troy State University from Alabama has appeared in three New Orleans Bowl games and has a 2-1 record in them.
Other teams to have appeared in the bowl game series include Memphis State, Colorado State, Florida Atlantic, Middle Tennessee, Arkansas State, Cincinnati, Rice, San Diego State and the University of Louisiana at Lafayette. In last year's bowl game ULL beat San Diego 32-30.
Overall in the bowl matchups, teams from the Sunbelt Conference have a 6-5 edge over their Conference USA rivals.

Several winners of the game's Most Valuable Player Award and other participants in the New Orleans Bowl have gone on to pro football stardom in the NFL. Southern Miss linebacker and 2004 MVP Michael Boley is a starter and key defensive player for the 2011 Super Bowl Champion New York Giants.

R+L Carriers began sponsoring the New Orleans Bowl in 2005.