R+L Carriers New Orleans Bowl

December 21, 2013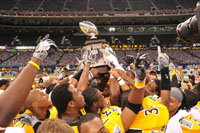 Who:

Tulane Green Wave vs. Louisiana-Lafayette Ragin' Cajuns

When:

December 21, 2013

Where: Superdome More Info: Click Here

There will be some extra Holiday Joy in New Orleans this year when the hometown Green Wave football squad from Tulane University plays in the annual R+L Carriers New Orleans Bowl in the Mercedes-Benz Superdome on Saturday, December 21.

The Wave will take on the Ragin' Cajuns of the University of Louisiana-Lafayette in their first bowl game appearance in 11 years. Coincidentally, it will also be the 11th bowl game in Tulane's long and eventful football history, which includes a victory in the first Sugar Bowl in 1935.

As pre-game entertainment, the Charlie Daniels Band and Travis Tritt will perform the night before the game in a free concert in Champions Square, immediately adjacent to the Superdome. The concerts will begin at 7:00 p.m.

With a season record of 7-5 (5-3 conference), Tulane qualified as the Conference USA representative. This will be Tulane's first bowl game since 2002 when, as the visiting team in the Hawaii Bowl, they defeated the University of Hawaii 36-28. It will also be the first time Tulane has played a bowl game in its home city since the 1940 Sugar Bowl.

Curtis Johnson Jr., a former wide receiver from the University of Idaho, has been Tulane's head coach since 2011. Prior to that he was the wide receivers coach for the New Orleans Saints for six years, including the Saints' 2009 season Super Bowl Championship team.

ULL, with a 2013 season record of 8-3 and one game left to play (5-1 conference), will be representing the Sun Belt Conference for the third year in a row. They won the last two New Orleans Bowls by scores of 32-30 over San Diego State in 2011 and 43-34 over East Carolina in 2012.

The Ragin' Cajuns are coached by Mark Hudspeth who holds an 84-29 career record in nine seasons as a collegiate head coach into the 2013 season. His college teams have won 10 or more games five times and they've had winning records in eight straight seasons.

As one of the earliest bowl games on the post-season schedule, the R+L Carriers New Orleans Bowl is certified by the NCAA as an official bowl game. It has been on the calendar since 2001 and has been title-sponsored by R+L Carriers since 2005.

The game has been played at the Superdome every year except 2005 when it was temporarily moved to Lafayette's Cajun Field following Hurricane Katrina. It returned to New Orleans the following season and has been here ever since.

While considerably smaller than the Sugar Bowl which comes to the Superdome on January 2, the New Orleans Bowl has steadily grown in size and popularity since its inception. It is now one of the top ten events in New Orleans in terms of economic impact. It typically has an attendance of approximately 30,000 fans, many of whom are visitors who take the opportunity to enjoy the city in its holiday dress.

Don't be surprised if you see Santa Claus (or several of them!) sitting in the stands next to you during the game. Or a Mardi Gras Indian Chief. Or a voodoo priest or priestess. New Orleans sports fans are among the most clever costumers you'll ever see in a stadium crowd!

Kickoff is at 8:00 p.m. (CST) and the game will be broadcast on ESPN and ESPN Radio.

Visitors are encouraged to book their travel arrangements well in advance. For more information on the New Orleans Bowl, visit www.neworleansbowl.org. For tickets go to Ticketmaster at www.TicketMaster.com or call 1-800-745-3000.

Tickets can also be ordered through the individual schools' websites: www.tulanegreenwave.com and www.ragincajuns.com. Phone numbers are (Tulane) 504-861-9283 and (ULL) 337-265-2170.