"Miracle on Fulton Street" Returns

Free Holiday Event Opens November 23, 2010
!
The following content has expired and is available for viewing as an archived piece of editorial. Please note that the content is not being maintained and may be out of date!
"Miracle on Fulton Street," a holiday attraction in the heart of downtown New Orleans, will bring the magic and spirit of the holiday season alive for locals and visitors of all ages with a special lighting ceremony on Tuesday, November 23 at the Fulton Street pedestrian mall.
The lighting ceremony, which is free and open to the public, will begin around 5:30 p.m. From that evening through January 2, 2011, the lighting display and related programming will be open at 12:00 noon each day. The Fulton Street Mall is located between Poydras and Lafayette streets directly in front of the Harrah's Hotel.
The holiday lighting display tradition on Fulton Street was begun by Harrah's in 2007 in an effort to help New Orleans recover some of the visible festive spirit that was lost in the years immediately following Hurricane Katrina. The event was such a great success that Harrah's decided to continue staging it as an annual happening. Past events have featured popular local bands and choral groups, plus a wide variety of special holiday-related events and colorful and imaginative lighting displays.
"Miracle on Fulton Street" is sure to enchant guests with a dazzling holiday boardwalk, complete with Macy's Tremendous Tree, which towers 30-feet in the sky; Macy's Believe mailbox, where children can drop off their letters to Santa; and Santa's Toy Box. Guests are encouraged to donate new or unused gifts valued at $15 to benefit the Friends of the Fisherman Foundation. In exchange for the donation, patrons will get a complimentary photo with Santa.
"Faux snow" will be another highlight of the attraction. Periodic snowfalls, while extremely rare in New Orleans, are nonetheless "forecast" for Fulton Street this holiday season every hour on the hour beginning at noon daily.
On the weekends, holiday-themed food and beverages, including hot chocolate and roasted chestnuts, will be available from street vendors and retailers on Fulton Street. Guests can also enjoy face painters; balloon and caricature artists; and a visit from live reindeer, Sweet Thing and Bubba. Live entertainment will take place on Fulton Square on Fridays and Saturdays from 8-10 p.m. and on Sundays from 2-6 p.m. Performers will include top local bands and special performances. Choral groups are scheduled to perform every Sunday.
Beginning Nov. 26, commemorative photos with Santa will be available in front of Macy's Tremendous Tree, Fridays and Saturdays from 6-10 p.m. and Sundays from 2-7 p.m.
This year, Harrah's Hotel will also shine bright in jewel-colored lights with Christmas trees throughout the lobby and a gingerbread Superdome, in honor of the World Champion New Orleans Saints.
The entrance to the attraction, located at Fulton and Poydras Streets, will be defined by a series of custom-built, faux-wrought-iron arches, accentuated by 12-foot Christmas trees and 3-foot fleur de lis ornaments. The arches will create a dramatic canopy illuminated by thousands of LED lights. A computerized system will enable lighting technicians to create varied color themes against the backdrop of arches, ornaments and trees.
Guests can extend their holiday cheer at Harrah's Hotel with 25% off existing rates. Offer valid on a minimum of a two-night stay during Miracle on Fulton Street. To take advantage of this offer, guests must book online at www.harrahsneworleans.com and enter promotional code MIRACLE. The special is available November 24-January 2, based on availability. Rates exclude taxes, gratuities and incidental charges.
Live at Harrahs's Casino This Month
Spyro Gyra
Friday, November 5, 2010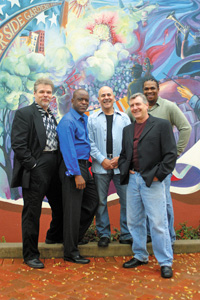 Spyro Gyra
Spyro Gyra, one of the top modern jazz bands of the past thirty years, will be performing live at Harrah's Casino Theater on Friday, November 5 for two shows at 7:00 and 10:00 p.m.
Spyro Gyra carved its niche into the popular music scene by infusing the rhythms of jazz, R&B, funk and pop with a Caribbean flavor. Some of their biggest hits, including "Morning Dance," "The Shaker Song," "Swept Away," "Catching the Sun," "Café Amore," "Havana Moonlight," "Sunset" and many others incorporate steel drums, marimbas, vibes, maracas and various other exotic percussion instruments into the more traditional jazz ensemble instruments. They have released 25 albums with total sales of more than 10 million copies and have been nominated for a dozen Grammy Awards.
Tickets are priced at $35 and $45 apiece and may be purchased at the box office inside the casino on the day of the performance, starting at 3:00 p.m. You can also order through Ticketmaster at 1-800-745-3000 or by logging on to www.ticketmaster.com. For more information visit the Harrah's website at www.harrahsneworleans.com.
Live Jazz at Masquerade
Throughout November, as in past months, the Masquerade lounge inside Harrah's Casino continues its Thursday night tradition, "Live Jazz Happy Hour." Every Thursday night, between 6:00 and 9:00 p.m., this free and open-to-the-public happening brings out some of New Orleans' finest jazz vocalists and musicians.
The November lineup is as follows:
Nov. 4: Dave Lemon & The Flow
Nov. 11: Tereasa Betts
Nov. 18: Real Love
Nov. 25: Gina Brown
A live deejay, Rob Nice, follows each of the shows. Also Ladies' Night from 10 p.m. to 1 a.m.
Harrah's New Orleans is operated by a subsidiary of Harrah's Entertainment, Inc., the world's largest provider of branded casino entertainment. Since its beginning in Reno, Nevada nearly 70 years ago, Harrah's has grown through development of new properties, expansions and acquisitions. Harrah's Entertainment is focused on building loyalty and value with its customers through a unique combination of great service, excellent products, unsurpassed distribution, operational excellence and technology leadership.