Super Bowl XLVII in New Orleans

February 3, 2013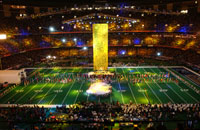 When:
February 3, 2013
Where:
Mercedes Benz Superdome
Cost:
FREE!
More Info:
Click Here
The biggest, grandest, most-watched single event in American sports is coming to New Orleans on February 3, 2013. The 47th annual Super Bowl between the top two teams in the National Football League is coming back to the Mercedes-Benz Superdome for the first time since before Hurricane Katrina. And, during halftime in the Big Game, multi-award-winning singer, Beyonce, will be headlining the entertainment lineup.
Kickoff is at 5:30 p.m. Central Standard Time.
This will be the 10th Super Bowl held in New Orleans since 1970, putting the city into a tie with Miami for the most by any single location. With seven Super Bowls to its credit, the Superdome ranks first among venues, the most recent of which was in 2002.
However, Super Bowl XLVII will be more than just a three-hour game between the top-seeded teams of the American and National Football Conferences. It's a weeklong extravaganza of exciting, entertaining and educational events, and no other host city puts on a better show than New Orleans.
Fans coming to cheer on their favorite team in the Mercedes-Benz Superdome on Super Sunday will have a wide range of entertainment options from which to choose in and around downtown New Orleans and the French Quarter. Live music, fabulous food, interactive fan events and even opportunities to meet and greet your favorite pro football stars are all on the agenda. New Orleans really knows how to throw a party and this one will be no exception. Especially coming, as it does, in between the two weekends of Mardi Gras.
Both the NFL and the Super Bowl Host Committee of the Greater New Orleans Sports Foundation have many exciting offerings on the boards for the days leading up to the Big Game. Here are some of the major highlights and their dates:
The NFL Experience
Ernest N. Morial New Orleans Convention Center
January 30-February 3, 2013
The NFL Experience is an ongoing feature that is held in every Super Bowl host city in a facility large enough to handle thousands of people at a time. As in past years, the 2013 NFL Experience will be staged in the Convention Center. Conveniently situated along the Mississippi Riverfront, walking distance from downtown and French Quarter hotels, "pro football's interactive theme park" will be offering participatory games, displays, entertainment attractions, kids' football clinics, free autograph sessions and the largest football memorabilia show ever.
For five days the hall will be filled with displays of past Super Bowls and the immortals who starred in them. The youngsters will have opportunities to punt, run and pass and be scored on their efforts. And, at various times, key players both past and present will be on hand to greet fans and sign autographs. Schedules of these times will be posted and more details about the NFL Experience can be found at their website, www.nfl.com/superbowl/nflexperience.
Media Day
Ernest N. Morial New Orleans Convention Center
January 29, 2013
For only the second year in Super Bowl history, fans will be able to ease or heighten their game day anxiety by joining thousands of reporters for Super Bowl XLVII Media Day. See your favorite players and coaches talk about their plans and World Championship dreams.
More details on Media Day will be announced as they become available.
During Media Day, fans will sit in the stands at the stadium and watch thousands of media from around the world interview members of the participating Super Bowl teams on the field. Fans who attend Media Day also will get a rare chance to see the preparations of the stadium for Super Bowl XLVII. Fans in attendance will receive a Media Day gift bag that will include a radio to tune into the day's coverage on NFL Network and they'll be able to listen to some of the individual player interviews from the podium microphones audio. In addition, there will be player and cheerleader appearances. Fans also will have access to concession and merchandise stands throughout the day.
Tickets are available for purchase through Ticketmaster. Tickets to attend Super Bowl XLVII Media Day cost $25.00 each.
Doors will open at 8:30 a.m. to all ticket holders. Media Day will begin at 10 a.m. All seating for the event will be reserved.
More information and updates on Super Bowl XLVII Media Day Fueled by Gatorade and other Super Bowl events will be posted on www.superbowl.com.

Super Bowl Fan Jam

February 2, 2013
Super Bowl Fan Jam is a free concert series that will feature some of today's hottest performing and recording artists. In years past performers have included such megastars as Rihanna, Justin Bieber, Gym Class Heroes, Steven Tyler and many others.
The 2013 Fan Jam lineup and the location will be finalized as the event draws closer. Check local listings and the NFL Experience website to see who's coming to rock the Big Easy!
Verizon Super Bowl Boulevard
Woldenberg Riverfront Park
January 31-February 3, 2013
What would a major event in New Orleans be without a party, and this one is the party to top ALL parties. Four days of attractions, music, food and beverages, live national television broadcasts, interactive fan events, and the iconic, larger-than-life Super Bowl Roman numerals that will be mounted on a barge alongside park's scenic walkway.
Free to the public, the Verizon Super Bowl Boulevard will open on Thursday, Jan 31and run daily until Super Sunday, Feb 3. To ensure that this event is nothing short of first-class, the local Super Bowl Host Committee selected Quint Davis and Festival Productions, Inc.-New Orleans (FPI) to produce it. Their credentials include producing such dynamic music festivals as the world-renowned New Orleans Jazz and Heritage Festival and the annual Bayou Country SuperFest in Baton Rouge.
This event will celebrate both the local culture of one of America's most historic cities and the storied history of America's #1 spectator sport. Complementing the public entertainment, broadcast and celebratory offerings on Super Bowl Boulevard, fans of all ages will have opportunities to interact with numerous NFL and Host Committee partner events, including the Verizon Media Center, a showcase of modern telecommunications technology.
Champions Square and Other Special Events
In the summer of 2010, several months after the New Orleans Saints' victory in Super Bowl XLIV, Champions Square was opened on what was formerly a section of LaSalle Street between the Superdome and the Benson Office Tower. Before, during and after Saints games and other sporting events, the plaza has been a gathering place for sports fans, featuring food, drinks, live entertainment and game broadcasts on oversized television screens.
Prior to Super Bowl XLVII Champions Square will serve as a pre-game gathering area for ticketholders to relax and enjoy themselves.
Other special events planned around the Super Bowl include a "Legends for Charity" dinner honoring former New Orleans Saints quarterback Archie Manning at the Hyatt Regency Hotel and a celebrity bowling event in Kenner, both on January 31; free health screenings at the Convention Center and a golf tournament in Algiers on February 1; a "Taste of the NFL" series of celebrity chefs and players dinners on February 2; and many other smaller events between January 31 and Super Sunday. For more details on these and other events check the Host Committee website at www.neworleans-superbowl.com.
Sports Bars
As for watching the Super Bowl, if you can't get a ticket to the Big Game itself, there are literally hundreds of sports bars throughout the New Orleans Metro Area that will have their large-screen TVs tuned into the contest. Some of these establishments have more than one screen set up to accommodate their patrons. The high-def quality of some of these TV sets will make you feel like you're in the stands watching the action from the 50-yard line and sharing the excitement with other rabid fans around you.
Click here for a list of sports bars in and around New Orleans. Super Bowl parties will be going on in bars, restaurants and hotels all over the city. Those that are open to the public will be announcing and advertising over the coming months and weeks remaining till Super Sunday.
For those who prefer to watch the game in their hotel rooms, it will be broadcast on CBS. The local affiliate in New Orleans is WWL-TV Channel 4. Kickoff is at 5:30 p.m. Central Time and there will be plenty of pre-game coverage prior to kickoff. But, if you're feeling a little more sociable and your hotel has a large lobby – especially one with a bar – they, too, can be expected to have the TV tuned to the game. You can savor the excitement in quiet comfort and not have to navigate crowded streets.
However you choose to enjoy your Super Bowl experience, you won't find a better place or a wider range of choices than you will here in the Crescent City. Relax, enjoy and cheer your heart out!
Tailgate Parties and Parking
Those who are planning to come to New Orleans and set up tailgate parties for the Super Bowl are strongly encouraged to make their plans as early as possible. Most tailgate parties take place in the public parking lots nearest to the Superdome, and most spaces in those lots – especially spaces for oversized vehicles – are reserved ahead of time with the parking lot companies.
Be advised, also, that although on-street parking meter requirements are lifted on Sundays, other restrictions will still apply. If you are able to find an on-street parking space, be sure you are not (1) blocking a driveway or fire hydrant (2) parking in a hotel passenger zone, a 24-hour freight zone or handicapped-designated area (3) too close to a street corner (4) on a median, or any other violation.
Parking control officers will be patrolling the downtown streets on Super Sunday giving out tickets to violators, and the most serious violators risk having their vehicles towed to the pound. The cost to retrieve a vehicle from the city impoundment lot is generally about $100 plus the cost of the ticket. Be sure to read posted signs before parking your vehicle.
However you choose to enjoy your Super Bowl experience, you won't find a better place or a wider range of choices than you will here in the Crescent City. Relax, enjoy and cheer your heart out!