Boudin & Beer

November 8, 2013
!
The following content has expired and is available for viewing as an archived piece of editorial. Please note that the content is not being maintained and may be out of date!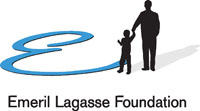 When:
November 8, 2013
Where:
The Foundry at 333 St. Joseph St.
Cost:
$99
More Info:
Click Here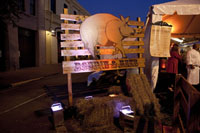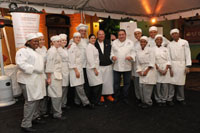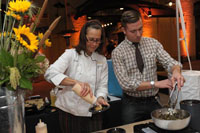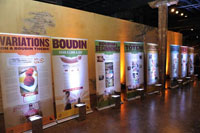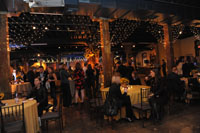 In the oft-quoted words of a world-renowned chef who got his start in New Orleans, a festival founded by Chef Emeril Lagasse is "kicking it up a notch" this year.
The one-day food and beer fest formerly known as Boudin & Beer is now Boudin, Bourbon & Beer. With the addition of a prestigious Kentucky-based bourbon distillery contributing its product to the lineup, the festival will be held on Friday, November 8, 2013 at The Foundry, 333 St. Joseph Street, in New Orleans' Warehouse Arts District.
Emeril, himself, along with other noted chefs Mario Batali and Donald Link (and more to be announced later), will headline the event. In 2012 more than sixty chefs participated. The festival is a benefit for the Emeril Lagasse Foundation, which supports nonprofit organizations that provide educational programs, life skills development, culinary training and cultural enrichment, all of which help create opportunities in the communities where Emeril's restaurants operate.
Buffalo Trace Distillery, from Kentucky's capital city of Frankfort, recently came on board for the event, joining Abita Beer as a major sponsor. Along with boudin, the "Three B's" will be front and center during this event that grows in popularity with each successive year.
In addition to the other alcoholic beverage sponsors, several California wineries will also have a presence at the event. Among those announced so far are Landmark Vineyard from Sonoma, Au Bon Climat from Los Olivos, and a wide selection of premium wines from California's world-famous Paso Robles region. There will also be cigar tastings offered by premium tobacco brands.
At this year's event, some of the nation's top chefs will be cooking up their own boudin recipes, using their creative imaginations in a friendly competition. Co-chairing the event are super-chefs Batali and Link.
Musical entertainment confirmed so far will be provided by the Lost Bayou Ramblers, the St. Claude Serenaders and the Holy Ghost Tent Revival from Greensboro, North Carolina. Cajun artists will have works on display and for sale.
Tickets are now on sale. For reservations and information, visit the Boudin, Bourbon & Beer website at www.boudinbourbonandbeer.com. Also see their Facebook page at www.facebook.com/BoudinandBeer. For information by phone call (504) 212-2222.
What is Boudin?
Pronounced boo-dan, this tasty delicacy originated in western Europe and was honed to perfection in southern Louisiana. In the versions that originated in Louisiana's Cajun Country, it is a sausage-like meat dish in which a pork rice dressing (much like dirty rice) which is stuffed into pork casings, along with pork meat and herbs. Some people call it the "Cajun hot dog."
The most common variety is boudin blanc (white boudin), taking its name from the color of the finished product, as opposed to the more reddish varieties that use small amounts of blood. The reddish variety is sometimes referred to as "blood sausage." Boudin can be mild or spicy, depending on one's individual tastes, and is frequently stuffed with alligator, crawfish or shrimp meat. It is typically simmered or braised (cooked slowly in fat) to perfection, ready to be served and savored.
Boudin is the central focus of a Boudin Festival every spring in Scott, Louisiana, just off I-10 about ten miles west of Lafayette.
About the Principals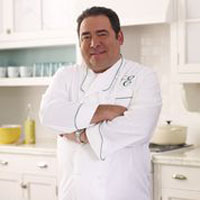 Chef Emeril Lagasse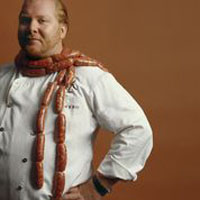 Chef Mario Batali
Chef Donald Link
After more than 30 years of cooking up the highest of haute cuisine, "Super Chef" Emeril Lagasse is a household name today. So much so, in fact, that just his first name is sufficient to conjure up familiar images of him "bamm-ing" his way through countless cooking shows and demonstrations, "kicking it up a notch" each time he leans over the stove.
A native of Fall River, Massachusetts, he made his way to New Orleans in the early 1980s after learning his craft at the world-famous Johnson & Wales University. While prepping at Commander's Palace Restaurant in New Orleans' Garden District, he succeeded Chef Paul Prudhomme as executive chef there in 1982. Eight years later he opened his flagship namesake restaurant at Tchoupitoulas and Julia streets in the Warehouse Arts District and his career skyrocketed from there.
After countless TV cooking and variety shows; more than a dozen restaurants in New Orleans, Las Vegas, Orlando, Charlotte and Bethlehem, PA; roughly 30 cookbooks and videos; and an entire product line consisting of everything from cookware to ingredients, Emeril has established a culinary empire that no other chef could come close to rivaling. New Orleans can proudly claim that his international fame and widespread recognition began right here.
Chef Mario Batali is a world-renowned, multi-award-winning American chef, writer, restaurateur and media personality. In addition to his classical culinary training, he is an expert on the history and culture of Italian cuisine, including regional and local variations. He co-owns restaurants in New York City, Las Vegas, Los Angeles, Singapore, Hong Kong and Westport, Connecticut.
Chef Donald Link is the owner of the popular New Orleans restaurants Cochon, Herbsaint, Butcher and Calcasieu. In 2007, he earned a James Beard Award for "Best Chef South," and in the same year, Cochon was nominated for "Best New Restaurant."
Abita Beer
Abita Beer, the event's name sponsor, is brewed in Abita Springs, Louisiana with the pure artesian water that originates in the aquifer north of Lake Pontchartrain. They are famous for their dark beer and other varieties with colorful names like Turbodog, Purple Haze, Jockamo and seasonal beers like Mardi Gras Bock. They also brew special ales, flavored beer (strawberry, pecan and satsuma), root beer and other varieties. Some of the "big beer" bottles with their unique designs have become collectors items.
Buffalo Trace Bourbon
Buffalo Trace Distillery is the oldest continuously operating distillery in America. Bourbon has been distilled on the site for over 200 years. It has never shut its doors during that time, even during Prohibition when it was permitted to remain operational, producing whiskey for "medicinal purposes".
Buffalo Trace Kentucky Straight Bourbon Whiskey is distilled, aged and bottled at the most award-winning distillery in the world. Made from the finest corn, rye and barley malt, this whiskey ages in new oak barrels for years in centuries-old warehouses until the peak of maturity. The taste is described as "rich and complex, with hints of vanilla, toffee and candied fruit. The smooth finish lingers on the palate."
The whiskey and distillery both take their name from trails (traces) that were actually carved by herds of buffalo crossing the Kentucky River during their periodic migrations. Kentucky's capital city of Frankfort grew up around the distillery which was - and still is - a major employer in that region.