Frenchmen Street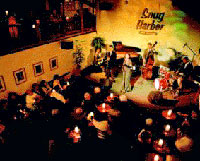 Snug Harbor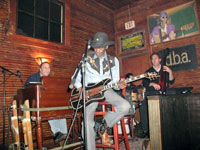 d.b.a.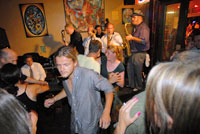 The Spotted Cat
Light years removed from the glitzy neon lights and blaring cover music of Bourbon Street but, in reality, only walking distance away, is a compact musical enclave where the "locals" hang out. A two-block-long entertainment district where, on any given night of the week – including normally dead Mondays – you can hear live sounds and a wide variety of music as only New Orleans musicians can perform.
It's called Frenchmen Street and it is, conveniently, only steps away from the French Quarter. Cross Esplanade Avenue at Decatur Street and you are there. Within that two-block stretch of Frenchmen Street you are likely to hear anything from jazz to Latin to blues to reggae . . . and just about everything in between.
No neon lights; only plain wooden signs to designate a dozen music clubs in the greatest concentration of live music venues outside the French Quarter. In all likelihood you wouldn't even know it was there unless someone told you about it. But once you've been there you'll want to hang out and enjoy it even more. Inside the clubs or outside on the street, you'll hear some of the best live music produced anywhere in the city.
And...best of all...on Frenchmen Street the drinks are cheap and admission to most of these clubs is free! The only thing you'll be asked to do is tip the bands generously; or, as they say, make a contribution to Philip (as in "Fill up the tip jar"). In some of these venues, that's the only money they make, so you'll be making a worthy contribution toward keeping the music of New Orleans alive.
A number of late-night eateries are open along the street and in the adjacent Faubourg Marigny neighborhood to serve the palates of those who suddenly find themselves inflicted with a case of the "midnight munchies." For those who can't remember how they got there or are too partied-out to make the return trip to the French Quarter on foot, getting back is no problem. Frenchmen Street is one of the few areas of New Orleans where taxicabs cruise continuously during peak activity hours and you're never more than a few minutes from the next one to come along.