Oak Street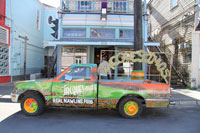 Jacques-Imo's Restaurant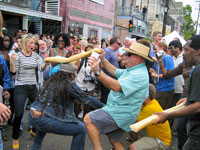 Oak Street Po-Boy Festival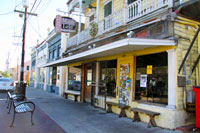 Maple Leaf Bar
As the "Main Street" and commercial hub of the Town of Carrollton before its annexation by the City of New Orleans, Oak Street was a busy thoroughfare for Carrollton residents in the late 1800s through the early years of the 20th century.
Old-timers in Carrollton recalled going down to Oak Street to do their shopping, get their hair cut, have their shoes shined and repaired, pick up garden tools and other hardware and hear the latest gossip from their neighbors. By mid-century, however, with private vehicles becoming more accessible to more people, Carrolltonians began driving to the New Orleans suburbs to do their shopping and Oak Street started falling into commercial decline.
However, by the 1970s and 1980s, with a renewal of interest in early Americana "Main Streets," Oak Street rode the wave of nostalgia and began a resurgence of commercial importance. Today, with seven blocks lined with nearly every type of small business imaginable, Oak Street is once again the commercial center and pride of the city's Carrollton neighborhood.
Thanks to an infusion of federal and state dollars from the Main Street Program, many of the former commercial establishments in the 8100 to 8700 blocks of Oak Street – between South Carrollton and Leake avenues – were spared the wrecking ball and brought back into commerce. Occupying older buildings, most of which date back to the early 20th century, are a collection of coffee shops, art galleries, new and second-hand clothing boutiques, hobby shops, cozy dining establishments and other small businesses.
Recent street and sidewalk improvements have created a user-friendly ambience, and Oak Street has become a mecca for students at the nearby universities, as well as for local artists, writers, artisans and musicians. Easy accessibility from downtown New Orleans via the St. Charles Avenue Streetcar line has led many out-of-towners to discover the charms of this picturesque little enclave sandwiched between the lower western edge of the city and the Mississippi River.
One of the most famous music clubs in New Orleans, the Maple Leaf Bar, made international headlines in September 2005 when it hosted the first live music shows in the city after Hurricane Katrina, setting up portable generators for the band to plug into. In years prior to that and right up to the present, the Maple Leaf has also become famous for its live poetry readings and was a frequent hangout for the late "Poet Laureate of Oak Street," Everett Maddox.
Next door to the Maple Leaf is Jacques-Imo's Restaurant, which has become one of the hottest food tickets in town. It is widely known for its eclectic mix of Creole and Cajun specialties, at reasonable prices cooked up by its irrepressible owner/chef, Jacques Leonardi.
Every year in mid-November the street hosts the Oak Street Po-Boy Festival, which pays tribute to the French bread sandwich for which New Orleans is famous. In recent years the festival has been drawing up to 30,000 people who come to dine on po-boys and other culinary and seafood delicacies, listen to live music and shop in the specialty shops along the six-block stretch.