Tulane Summer Lyric Theatre
Long before there was much of anything going on during the summers in New Orleans, there was live musical theatre at Tulane University. Now going into its 40th year, Tulane Summer Lyric Theatre has offered at least one stage production a season continuously since 1968 – and usually up to three; sometimes even as many as four.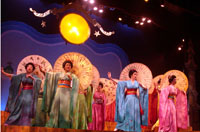 Mikado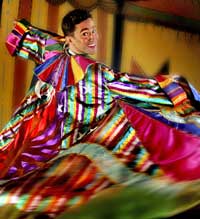 Joseph and the Amazing
Technicolor Dreamcoat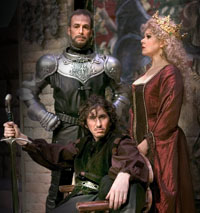 Camelot
The productions are scheduled one a month, including June, July and August.
According to its mission statement, Tulane Summer Lyric Theatre aims "to preserve one of America's greatest art forms by producing the highest quality musical theatre. Our theatre exists to support and expand musicians, actors, singers, dancers, technical artists and most important, students of promise, as well as those whom are already established by bringing together both the university's resources and the community."
Tulane Summer Lyric has lived up to its mission by presenting over 120 musicals during the course of its existence. Included in that number are such favorites as "West Side Story," "Brigadoon," "Showboat," "Bye Bye Birdie," "Candide," "Camelot," "South Pacific," "The King and I," "The Man of La Mancha" and numerous others, including choice selections from the Gilbert & Sullivan repertoire.
Each season Summer Lyric Theatre employs the talents of over 200 paid and volunteer actors, singers, dancers, musicians, directors, choreographers, designers and technical artists. Hundreds of individuals audition each year to be a part of the Summer Lyric cast. The experience they gain gives young emergent talent the opportunity to work alongside professionals in a truly collaborative atmosphere. Videos of some of the theatre's recent performances are available.
Performances take place in Dixon Hall on the Tulane University campus. Tickets for the summer's productions go on sale in March of each year. Tickets can be purchased for individual shows or in blocks of two or three. Discounts are available for groups of twenty or more.
For tickets or general information about Tulane Summer Lyric Theatre, go to www.summerlyric.tulane.edu or call the box office at 504-865-5269.