Chef Adolfo Garcia

RioMar, LaBoca, aMano, Ancora Pizzeria, High-Hat Café, & Gusto Restaurants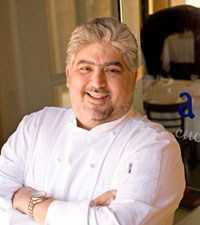 Chef Adolfo Garcia
Growing up in New Orleans to Panamanian parents, Chef Adolfo has taken old New Orleans seafood and other Creole specialties to another level, infusing them with the Latin American flavor that reflect his heritage and culinary experiences. He is both a culinary traditionalist and pioneer, always willing to experiment and try new recipes yet staying faithful to those specialties that are tried and true. His restaurants, La Boca, and Gusto at the Theaters at Canal Place are meccas for those who enjoy a little Latin spice in their dining experiences. On Freret Street, Chef Adolfo Garcia also owns Ancora Pizzeria and Salumer í a as well as New Orleans style cuisine High-Hat Café.
One of many distinguished graduates of the prestigious Culinary Institute of America in Hyde Park, NY, Chef Adolfo sharpened his cooking skills and knowledge in London, Madrid and New York City before returning to his Crescent City home in the late 1990s. In 2000 he and business partner Nick Bazan opened RioMar, followed by LaBoca, billed as an Argentine steakhouse in 2006. Still on a roll three years later, he opened a Mano (Spanish for "by hand") and lived up to the name, fashioning culinary specialties just that way. A year later he opened Gusto Cafe & Bar for newly renovated The Theatres at Canal Place in downtown New Orleans, which features in-seat dining service and a cafe and bar for Canal Place visitors specializing in Mediterranean fare.
Accolades include a Mano being named 2010 James Beard "Best New Restaurant" semifinalist and Chef Adolfo a "Best Chef for the South" semifinalist. New Orleans magazine named him "Chef of the Year" for RioMar and La Boca and the New Orleans Times-Picayune included RioMar in its Top Ten Best Restaurants in the city during Chef Adolfo's time there. Hispanic Magazine named him to its Top 8 Latin Chefs in the Country.