Chef Leah Chase

Dooky Chase's Restaurant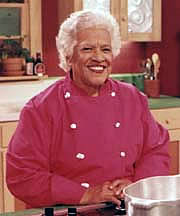 Chef Leah Chase
When the subject of "soul food" comes up in New Orleans, the first name one usually hears is Leah Chase. There is a very good explanation for it. She was one of the food genre's pioneers. Her recipes, like their creator, have become legendary.
Leah Chase has been cooking in New Orleans since 1946 at Dooky Chase's Restaurant. Over the past 65 years she has evolved into a celebrity who has served many other celebrities. During the Civil Rights Era, when African Americans were still banned from White-owned restaurants, some of the nation's most prominent civil rights leaders gathered at her restaurant to eat and discuss plans for integrating "Whites-only" facilities in New Orleans. Ray Charles was a frequent patron there also during his trips to New Orleans.
Chef Leah was named to the Lafcadio Hearn Hall of Honor at Nicholls State University's John Folse Culinary Institute. She has received the Candace Award, the Freedom Foundation Award, the NAACP Human Understanding and A.P. Tureaud Awards, the Times Picayune Loving Cup and the Weiss Award from The National Conference of Christians and Jews. She is the author of the Dooky Chase Cookbook (Pelican Publishing Co.). The biography of Leah Chase, Leah Chase: Listen, I Say Like This by Carol Allen, is available by contacting Pelican Publishing, (800) 843-1724 or by visiting: www.pelicanpub.com.
Chef Leah, the "Queen of Creole Cuisine", was the inspiration for Princess Tiana in Disney's Princess and the Frog. The Southern Food and Beverage Museum in New Orleans named a permanent gallery after Leah Chase in 2009. In 2010, Chef Leah was inducted into the James Beard Foundations' "Who's Who in Food & Beverage." Her warmth and mastery of culinary arts make her a legend in the New Orleans' food world.