Chef Donald Link

Herbsaint, Cochon, Butcher, & Peche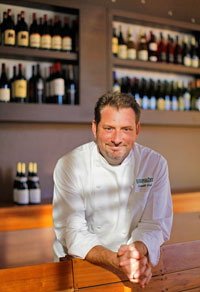 Chef Donald Link
Chef Donald Link is the dictionary definition of a chef turned entrepreneur who literally worked his way up in the business from a very young age. Inspired by his grandfather, Chef Donald began cooking at a very young age. From dishwashing at age 15, he quickly began a career cooking in Louisiana restaurants. In 1993 he moved to San Francisco to attend the California Culinary Academy, and during that time he worked at a number of Bay Area restaurants. After a two year stint as Sous Chef at Susan Spicer's Bayona restaurant in the French Quarter, Chef Donald returned to San Francisco to work with Loretta Keller at Bizou and to open Jardiniere with Traci Des Jardin. During his time on the West Coast, Donald's cooking style became more refined, and his appreciation for raw ingredients and delicate approach to technique came into focus.
His maiden venture in New Orleans was Herbsaint, which he opened in 2000. It was an immediate success that inspired him to branch out into his specialty, Cajun cooking, which he grew up with in Louisiana's Acadiana region. Cochon opened in 2006 to rave reviews, followed soon thereafter by Butcher around the corner from Cochon, then Calacsieu. Chef Donald also opened Peche Seafood Grill in spring of 2013. Peche was awarded "Best New Retaurant" at the 2014 James Beard Foundation Awards. Link was nominated for James Beard Foundation's award of "Outstanding Chef" in 2012-2014. In 2012, Link was recognized by the Louisiana Restaurant Association, naming him "Restaurateur of the Year." The 2007 James Beard Award winner for "Best Chef: South," Chef Donald creates classic dishes like Duck Leg Confit and Steak and Frites, along with Southern staples such as Grits and Dark Roux Gumbos. The wine list at Herbsaint covers all the world's wine regions with an emphasis on France, especially the wines of Burgundy.
Low-key, soft-spoken and humble, Chef Donald has taken his rightful place alongside the many other stars of his profession in a city world famous for its fine cuisine and the great chefs that make it happen.