Chef Emeril Lagasse

Emeril's Restaurant, Nola Restaurant and Emeril's Delmonico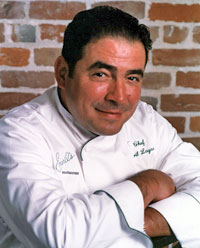 Chef Emeril Lagasse
He's so famous he needs only one name...Emeril. His restaurants in New Orleans, each distinctively different, are packed each night. His television shows have garnered top awards. And his cookbooks are considered the Bibles of home cooks everywhere. He's a hometown hero to many charitable endeavors, and is one of this city's most enthusiastic ambassadors. Is it any wonder why this city loves Emeril right back?
When in New Orleans, you have three fabulous restaurants to choose from, all owned and operated by Emeril Lagasse:
Emeril's Restaurant is a noisy, bustling restaurant in the heart of the Warehouse District. Both lunch and dinner feature new New Orleans foods with a Creole ethnic flair. Look for the barbecue shrimp with petite rosemary biscuits and Andouille crusted rainbow trout . It's a chic, be-seen kind of place, so dress up. Make reservations in advance.
Nola Restaurant is a hip, casual restaurant in the heart of the French Quarter featuring Cajun/Creole foods. The industrial decor, in an 1800s building, makes for a quirky ambiance. Look for the grilled double cut pork chop with brown sugar glazed mashed sweet potatoes served with pecan relish and caramelized onion reduction sauce.
Emeril's Delmonico is an elegant, sophisticated restaurant on historic St. Charles Avenue featuring classic New Orleans Creole cuisine. Located in what was once an antebellum mansion, Emeril's Delmonico is a special-occasion treat. A signature dish to look for: Grilled Lamb Loin with braised collard greens, glazed yams, preserved watermelon, pecans, and mango pickapeppa.