Chef Tory McPhail

Commander's Palace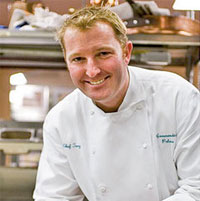 Chef Tory McPhail
A native of Ferndale, Washington, a small agricultural town on the Canadian border, Tory McPhail grew up on his family's farm, eating fresh, locally sourced foods and building an early appreciation for their origin. After attending school in Seattle, Chef Tory opted for a start in New Orleans. At age 19, he was hired at the lowest level of food preparation, with salads and appetizers, but he moved swiftly through all 12 stages of the kitchen. He gained experience in Florida, London and the Virgin Islands and, after a few years, Commander's Palace (training ground for such prestigious chefs as Emeril Lagasse, Paul Prudhomme and Jamie Shannon), requested his demonstrated talent at the restaurant in Las Vegas. In early 2002, he was named executive chef of the original Commander's Palace in New Orleans' picturesque Garden District. In the years since then Chef Tory has been instrumental in rebuilding the dining scene in New Orleans.
Since 2008 Chef Tory has hosted his own television show, "Off the Menu." It is an original series, produced and aired on Turner South. Some of his segments dwell on hunting, before turning the day's shoot into elegant fare, worthy of the most sophisticated palate. Or you might see him fishing from an oil rig in the middle of the Gulf of Mexico, and then turning the exotic catch into an unforgettable meal. Honors include being named Best Restaurant, Best Restaurant on the Strip, Best in Service in 2002 and Best New Restaurant in Las Vegas in 2001.
Under his leadership, Southern Living named Commander's the "Best Splurge Restaurant in the South." Chef Tory also won the 2009 Great American Seafood Cookoff and has received honors from the James Beard Foundation, the Culinary Institute of America, Wine Spectator, and Gambit. In season 11 of Bravo's Top Chef , Chef Tory served as a guest judge. He received the 2014 Best Chef South Award from the James Beard Foundation.
Experience Chef Tory's incredible creations at Commander's Palace in New Orleans, where you might sample such Commander's classics as Turtle Soup au Sherry, Pecan Crusted Trout, Oven Roasted Gulf Oysters, Praline Parfait and many more memorable culinary treasures.