Chef Paul Prudhomme
K-Paul's Louisiana Kitchen
July 13, 1940-October 8, 2015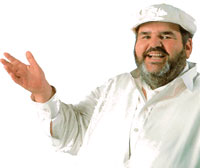 Chef Paul Prudhomme
Chef Paul Prudhomme was, literally, the man who "started it all." Almost single-handedly he was responsible for launching the Cajun cooking craze that began in the early 1980s and, unlike most fads, this one hasn't abated since then nor does it show any signs of doing so anytime soon.
Unlike many of his fellow celebrity chefs, Paul Prudhomme didn't find it necessary to barnstorm the world to promote his skills and fame. The world came to him. Nor did he go into expansion and franchising. Paul only owned one restaurant, the very modest-looking K-Paul's Louisiana Kitchen in the French Quarter, but that one restaurant alone has kept his name and fame alive for an entire generation. In that one modest facility he revolutionized the language and art of cooking, elevating American cuisine to levels only previously reserved for the haute cuisine of France and other nations of Europe.
Chef Paul, as one of 13 children, began his love of cooking in his mother's kitchen in the Cajun Country of south Louisiana. He polished his skills and honed his craft in the kitchen of world-renowned Commander's Palace before launching out on his own. Today, K-Paul's Louisiana Kitchen (named after him and his late wife Kay) is a magnet for culinary connoisseurs from all over the world. His product line of Chef Paul's Magic Seasoning Blends are available everywhere in the United States and in more than 35 foreign countries.
Chef Paul was named Restaurateur of the Year in Louisiana and was the first American-born chef to receive the coveted Merité-Agricole of the French Republic. He was named Culinarian of the Year and Culinary Diplomat by the American Culinary Federation. In 1993, the National Restaurant Association honored Chef Paul with both the College of Diplomates Award and the Thad and Alice Eure Ambassador of Hospitality Award. Nation's Restaurant News honored him as a Fine Dining Legend Award winner. He cooked in the White House and for various heads of state, often improving upon their own native cuisines. In 2012, Chef Paul was named one of the Pioneers of American Cuisine by the prestigious Culinary Institute of America.
Adding to his honors and credentials, he was featured on every major television network and many other cable channels with widely viewed cooking shows or segments. He was written about and contributed to such prestigious publications as Bon Appetit, Travel + Leisure, National Geographic Traveler, Time, Life, Playboy and many others. His restaurant offers special menus for off-site events anywhere in the United States. And, to top it off, he wrote twelve bestselling cookbooks and produced six cooking videos, two of which were at the top of the Billboard's chart for fifty-three consecutive weeks.
Chef Paul Prudhomme passed away in the fall of 2015 and will forever be remembered in New Orleans and around the world for his incredible cuisine, hospitality and spirit.
You can buy his Magic Seasoning Blends in most local grocery stores, or through Chef Paul's mail order company (800) 457-2857 and online at www.chefpaul.com.