Chef Alon Shaya

Shaya, Domenica and Pizza Domenica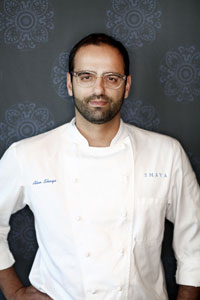 Chef Alon Shaya
Alon Shaya is a chef and culinary inspiration, known best for his partnership with the Besh Restaurant Group's Domenica, Pizza Domenica, and the chef's most recent opening of Shaya on Magazine Street.
Background
Growing up in Philadelphia, Shaya spent most of his time in the kitchen with his mother and grandmother, who inspired his love for cooking. He pursued his passion by training with the Culinary Institute of America before moving to Las Vegas, to intern in the kitchens at the Rio Hotel and Casino.
Shaya was lured down to New Orleans in 2001, when he started as "Chef de Cuisine" at Besh Steak in Harrah's Casino. He fell in love with the city and worked at Besh Steak for six years, helping to re-open the restaurant after the damage of Hurricane Katrina. After moving to Italy for a year to explore new flavors and develop his skills further, Alon forged a partnership with famous New Orleans chef, John Besh, to open Domenica, the award-winning Italian restaurant in New Orleans' historic Roosevelt Hotel.
Awards
Shaya continued to thrive in his new permanent home in New Orleans. In 2012, 2013 and 2014, he was a finalist for a coveted James Beard Foundation Award, in the "Best Chef – South" category. In 2010, Esquire Magazine named Shaya one of four Chefs to Watch, and he was named "Chef of the Year" by Eater New Orleans. New Orleans Magazine honored him as "Chef of the Year" in 2012.
Alon opened Pizza Domenica, a casual spin-off of Domenica Restaurant, in uptown New Orleans in the spring of 2014. He continued to gain local and national acclaim, and in 2015 Shaya won the James Beard Award for Best Chef: South, for his work with Domenica. The following year he won yet another James Beard Award for Best New Restaurant, with his his coveted menu at Shaya.