Café Brulot Diabolique

A Traditional New Orleans Cocktail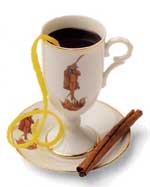 Cafe Brulot Diabolique
The concept of flaming coffee may sound frightening, but this traditional post-dinner libation is the perfect ending to a memorable meal at some of New Orleans' most historical dining establishments. Café Brulot Diabolique, or "Devilishly Burned Coffee," was invented at Antoine's Restaurant by Jules Alciatore, the son of the restaurant's founder and became especially popular during the Prohibition as a means of concealing alcohol.
Today, the drink is found at only a few restaurants, such as Antoine's, Galatoire's and Arnaud's. The preparation is a spectacle in itself – all ingredients are artfully combined tableside in ornate bowls. Once the alcohol is added, the waiter adds flame to the concoction, ladling the flaming liquid into cups and in some cases, onto the table to create a fiery display (don't worry – this sounds more dangerous than it is). Dining in New Orleans is hardly ever ordinary, and ordering Café Brulot is the perfect way to ensure an exciting finale to an amazing meal. The recipe is listed below, but should you chose to make it on your own, exercise extreme caution in handling this delicious – but highly flammable – cocktail.
Café Brulot Diabolique Recipe
2 stick cinnamon
8 whole cloves
peel of 1 lemon
1 ½ tablespoons sugar
3 oz brandy
3 cups strong black coffee
Put the cinnamon, cloves, lemon peel, sugar, and brandy in a fireproof bowl and heat on open flame. When the brandy is hot, but not boiling, bring the bowl to the table and ignite with match. Use a ladle to stir and pour the liquid around the bowl for 2 minutes. Pour the hot coffee into the flaming brandy and ladle the mixture into demitasse cups.