Ramos Gin Fizz

A Traditional New Orleans Cocktail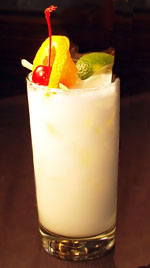 Ramos Gin Fizz
Just like many local treasures - the Ramos Gin Fizz is one of those drinks that you'll be hard-pressed to find outside of New Orleans. While combining gin with cream and egg whites (among other ingredients) might seem odd, Henry C. Ramos knew he was onto something when he concocted this now infamous cocktail back in 1888. And even if you still may be a little skeptical, try it out and you'll probably agree with the creator's decisions. Former Louisiana Governor Huey Long is one of the cocktail's most famous fans – he even introduced the drink to New York when he brought a New Orleans bartender along on a business trip because he couldn't do without this delicious beverage. Long apparently referred to this as "his gift to New York" – make it your gift to your hometown by mastering the mixing of this tricky but tasty cocktail. A good gin fizz takes time to make but the reward will be well worth it.
Ramos Gin Fizz Recipe
3 dashes Lemon Juice
2 dashes Lime Juice
3 dashes Orange Flower Water
1 1/4 oz. Dry Gin (they use Gordon's)
1/4 of the White of one egg
1 Tbsp Powdered Sugar
3 oz. Milk
Add the contents to a cocktail shaker with plenty of ice. Shake very well until good and frothy, strain into a cocktail tumbler.