Cajun Grain Dirty Fried Rice

Chef John Besh, Besh Restaurant Group
Serves 4 to 6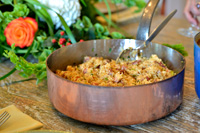 Cajun Grain Dirty Fried Rice
1 quart Cajun Grain Rice
4 tablespoons olive oil, in all
8 cloves garlic, minced, in all
6 tablespoons ginger, peeled and minced, in all
2 quarts store-bought chicken stock
1 pound breakfast sausage
1 pound tasso, cut into ½-inch pieces
2 tablespoons Szechuan pepper, ground
2 cups scallions, chopped
In a large pot, toast rice in 2 tablespoons of oil over high heat for about 5 minutes. Add half the garlic and ginger, sweat for about 1 minute. Add chicken stock and bring to a boil. Cover; cook over low heat for 20 minutes. Remove from heat; fluff with a fork. Set aside.
In a wide pot, brown breakfast sausage over high heat with remaining 2 tablespoons oil; breaking it into bite-sized pieces as it browns. When brown, add tasso and cook until caramelized, about 10 minutes. Add Szechuan pepper and toast. Reduce heat to medium-high; add remaining garlic and ginger and cook until softened, about 3 minutes. Fold in cooked rice; add chopped scallion.


Louisiana Kitchen is published six times a year by Our Kitchen & Culture, a Louisiana LLC. It is the authoritative voice on Louisiana's delicious culinary heritage and cuisine. Subscribe Now!