Crab Stuffed Mirlitons (Chayotes)

Chef John Besh, Besh Restaurant Group
Serves 6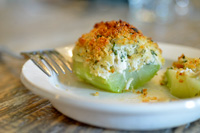 Crab Stuffed Mirlitons (Chayotes)
6 large mirlitons
1¼ cups of olive oil, in all
3 cloves of garlic, thinly sliced
1 teaspoon of crushed red pepper flakes
2 cups of plain bread crumbs
1 cup freshly grated Parmesan
1 sprig basil, chopped
1 sprig thyme
1 pound jumbo lump Gulf crab meat, picked over
¼ cup Sauce Ravigote (recipe follows)
1 green onion, chopped
salt and freshly ground black pepper
Preheat oven to 350° F.
Peel and halve mirlitons; simmer in a large pot of lightly salted water, covered, over medium heat until tender and easily pierced with a knife, about 10 minutes. Remove from water and rest upside down on paper towels to cool and drain.
Meanwhile, heat 1 cup of oil in a large skillet over medium heat until warm. Add garlic; cook until soft. Stir in pepper flakes and bread crumbs; remove skillet from heat. Stir in Parmesan cheese, basil, and thyme. Set aside.
Heat remaining ¼ cup oil in another large skillet over medium-high heat until hot. Add crab meat, Sauce Ravigote, and green onions; sauté for 1 minute. Remove skillet from heat; stir in 3 tablespoons of bread crumb mixture. Season stuffing with salt and pepper. Set aside.
With a spoon, gently scoop out seeds in the middles of mirlitons to create a pocket for stuffing. Pack a spoonful of stuffing into center of each mirliton; place in a roasting pan or baking dish. Add remaining stuffing to mirlitons once they are in the dish. Cover with remaining bread crumb mixture. Bake stuffed mirlitons until stuffing is warmed through and golden brown, about 20 minutes.
Sauce Ravigote
1 cup mayonnaise
¼ cup prepared horseradish
2 teaspoons Dijon mustard
2 teaspoons chopped chives
1½ teaspoons salt
1 teaspoon white wine vinegar
ground cayenne pepper
ground white pepper
juice of 2 lemons
Combine all ingredients, mixing thoroughly. Store in refrigerator.


Louisiana Kitchen is published six times a year by Our Kitchen & Culture, a Louisiana LLC. It is the authoritative voice on Louisiana's delicious culinary heritage and cuisine. Subscribe Now!