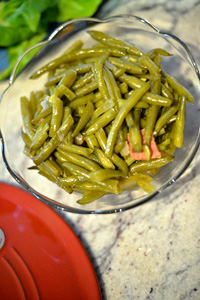 Clifton Chenier's Zydeco
Green Beans with Tasso
Add meat and onion to a Dutch oven; cover with 6 cups water. Bring to a boil, reduce heat to medium-low and cook 45 minutes. Add green beans; taste and adjust seasoning. Add butter and potatoes; cook for another 30 minutes, until green beans and potatoes are soft. Add sugar if desired.