Oyster and Duck Gumbo

Chef John Besh, Besh Restaurant Group
Serves 10 to 12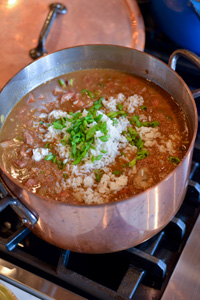 Oyster and Duck Gumbo
1 cup canola oil
1 cup all-purpose flour
3 large onions, diced
1 large domestic duck or 3 average-sized wild caught, each cut into 12 pieces
2 tablespoons Creole seasoning
2 pounds spicy chicken sausage links, sliced into ½-inch pieces
2 green bell peppers, seeded and diced
2 stalks celery, diced
2 cloves garlic, minced
7 green onions, chopped
4 quarts store-bought chicken stock
2 bay leaves
1 pound andouille sausage, chopped
1 tablespoon Worcestershire sauce
salt and freshly ground black pepper
Tabasco sauce
3 cups shucked oysters
1 cup oyster liquor
6 cups hot cooked white rice
Make a roux by heating oil in a large cast-iron or heavy-bottomed pot over high heat; whisk flour into hot oil. It will immediately sizzle. Reduce heat to medium; continue whisking until roux is the color of peanut butter, about 15 minutes. Add onions, stirring into roux with a wooden spoon. Reduce heat to medium-low; continue stirring until roux is brown, about 10 minutes.
Season duck with Creole spice. Add duck to pot, increase heat to medium, and cook, turning pieces until browned, about 10 minutes.
Add chicken sausage and stir for 1 minute; add bell peppers, celery, and garlic. Cook, stirring, about 3 minutes. Add green onions, chicken stock, and bay leaves. Bring gumbo to a boil, stirring occasionally. Reduce heat to medium-low and simmer for 45 minutes; stir occasionally, skimming off fat from surface of gumbo as it simmers.
Add andouille, and Worcestershire. Season with salt, pepper, and Tabasco. Simmer for another 45 minutes, continuing to skim fat from surface.
Add oysters and oyster liquor just before serving. Serve in bowls over rice.