C.J. Chenier's Stuffed Pork (or Beef) Roast

Serves 8 to 10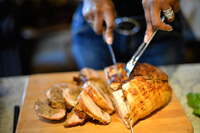 C.J. Chenier's Stuffed Pork (or Beef) Roast
6 cloves garlic, chopped, in all
½ cup white vinegar
1 teaspoon black pepper
1 teaspoon cayenne pepper
Creole seasoning
1 5-pound pork shoulder (Boston butt) or beef rump roast
¼ cup vegetable oil
1 large onion
1 large bell pepper
1 envelope powdered roux or gravy mix
½ cup chopped green onions, optional
Combine 4 cloves chopped garlic, vinegar, and black and cayenne peppers. Cut slits in roast and "stuff it to death" with mixture. Rub exterior of roast with Creole seasoning. Refrigerate for at least 8 hours or overnight.
Preheat oven to 375°F.
Add oil to a heavy skillet set over high heat; add roast and brown on each side. Remove roast to a large baking pan. Add onions, 2 cloves chopped garlic, bell pepper, and roux or gravy mix to pan the roast was browned in; blend well. Add 4 cups water; blend. Pour mixture around roast. Bake for 2 to 3 hours until desired interior temperature, 160°F for pork, between 130°F and 160°F for beef (depending on desired doneness). Top with green onions; serve with rice.


Louisiana Kitchen is published six times a year by Our Kitchen & Culture, a Louisiana LLC. It is the authoritative voice on Louisiana's delicious culinary heritage and cuisine. Subscribe Now!