Octavia's Sweet Potato Pie
with Gingerbread Crust

Chef John Besh, Besh Restaurant Group
Serves 8 to 10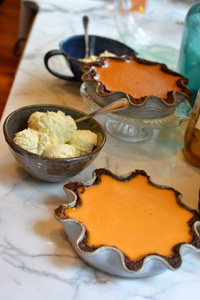 Octavia's Sweet Potato Pie
with Gingerbread Crust
2 large sweet potatoes
½ cup condensed milk
½ cup pineapple juice
2 each whole eggs
1 each egg yolk
½ cup milk
½ cup granulated sugar
½ teaspoon salt
4 tablespoons butter, melted
Gingersnap Crust (recipe follows)
Satsuma Blossom Honey Ice Cream
Preheat the oven to 325°F.
Poke holes in sweet potatoes and roast until bubbly liquid begins to leak out of the skins, about 45 minutes. Remove from oven; cool for 5 minutes. Carefully peel skins off potatoes and pass through a potato ricer. If you do not have a ricer, you can use a mixer to smooth out the potato purée. Set aside 8 ounces for use and allow it to cool. Store the remainder for another use.
Whisk together condensed milk, pineapple juice, whole eggs, egg yolks, and milk. Stir mixture into sweet potato purée; mix until smooth. Whisk in sugar and salt, followed by melted butter. Pour filling directly into Gingersnap Crust; bake for 15 minutes. Reduce heat to 300°F; bake until pie is just set in middle. Remove from oven; cool before serving. Serve with Satsuma Honey Blossom Ice Cream.
Gingersnap Crust
3 cups gingersnap cookies
8 tablespoons butter, melted
½ teaspoon salt
Preheat the oven to 325°F.
Using a food processor, blend gingersnap cookies into fine crumbs. Place in a large bowl and stir in salt and melted butter until the mixture is evenly incorporated. Press the crust into the bottom and up the sides of a 9-inch pie pan. Bake for 10 minutes then remove from oven and allow to cool completely. Set aside.
Satsuma Blossom Honey Ice Cream

Serves 6
½ cup whole milk
3 cups heavy cream, in all
½ cup satsuma blossom honey (orange blossom honey may be substituted)
5 each egg yolks
1 tablespoon raw sugar
Scald milk over medium-high heat, scald milk plus 2 cups cream and honey.
In a medium bowl, whisk together egg yolks and raw sugar.
Once cream mixture comes up to temperature, remove it from the heat and slowly temper it into eggs, whisking constantly. Return base to stove and cook on medium heat, stirring constantly until mixture coats the back of a spoon.
Strain cream mixture through a chinois or very fine sieve and immediately cool in an ice bath. Stir in remaining 1 cup of cold cream. Freeze in accordance with ice cream machine instructions.


Louisiana Kitchen is published six times a year by Our Kitchen & Culture, a Louisiana LLC. It is the authoritative voice on Louisiana's delicious culinary heritage and cuisine. Subscribe Now!