Slow-Cooked Wild Boar Shoulder
with Sauce Piquante

Chef John Besh, Besh Restaurant Group
Serves 4 to 6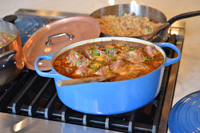 Slow-Cooked Wild Boar
with Shoulder Sauce Piquante
1 5-pound wild boar shoulder (Boston butt or pork shoulder may be substituted)
1 cup canola oil
1 cup all-purpose flour
4 onions, diced
2 stalks celery, diced
2 bell peppers, seeded and diced
4 cloves garlic, minced
2 bay leaves
1 tablespoon paprika
3 15 ounce cans diced tomatoes
1 gallon store-bought chicken stock
leaves from 4 sprigs fresh thyme
Worcestershire sauce
Tabasco sauce
1 tablespoon red pepper flakes
Cajun Grain Dirty Fried Rice (click here for recipe)
In a large pot, sear shoulder over high heat until browned. Remove shoulder from pot; set aside. Reduce heat to medium-high; add oil and flour and cook, stirring constantly, until a dark roux is achieved, about 20 minutes. Add onions; cook until caramelized, about 8 minutes. Add celery, bell peppers, garlic, bay leaves, and paprika. Stir; sweat for 1 minute. Add tomatoes; cook for 2 minutes.
Preheat oven to 375°F.
Return shoulder to pot. Add fresh thyme and chicken stock. Stock should cover the shoulder three-quarters of the way. Bring to a boil; cover and place in an oven. Cook until fork tender, about 4 hours.
Remove from oven and cut shoulder into bite-sized pieces. Add back to pot and season with Worcestershire and Tabasco.
Serve over Cajun Grain Dirty Fried Rice.


Louisiana Kitchen is published six times a year by Our Kitchen & Culture, a Louisiana LLC. It is the authoritative voice on Louisiana's delicious culinary heritage and cuisine. Subscribe Now!