Quail Roulade with Collard Green
Croquettes, Red Pepper Sauce
Windsor Court Hotel
(Serves 8)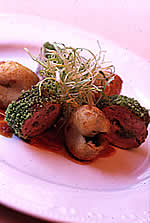 Windsor Court's Quail Roulade
For the Roulade
1/4 cup diced red onion
1/2 teaspoon crushed garlic
1 teaspoon chopped fresh thyme
1 teaspoon chopped fresh mint
1 lb. quail meat, trimmed and cleaned
1/4 teaspoon curing salt
1 whole egg
1 egg white
1/4 lb. pork fatback
Sumak, cayenne, paprika and black pepper to taste
1/2 cup heavy cream
1/4 bunch chopped parsley
10 chopped chives
1/4 cup minced yellow raisins
Slowly caramelize red onions in a non-stick pan. Add garlic, thyme and mint. Cook until fragrant, chill. Combine with quail meat, curing salt, eggs, fatback and seasoning. Purée in food processor until smooth. Slowly add in cream while continuing to purée. Remove, pass through a sieve, add parsley, chives and raisins, adjust seasoning and reserve.

4 large quail, with bones removed, skins and flesh intact
Lay individual quail flesh side up between two sheets of plastic wrap. Using a meat tenderizer, gently pound quail until surface is even. Spread quail forcemeat over quail and roll into tight roulades. Wrap and tie tightly in plastic wrap. Slowly poach in simmering water bath until internal temperature of quail reaches 140°. Remove from water and chill.
For the Collard Croquettes
1 diced yellow onion
1/2 bunch small chopped collard greens
1/4 lb. pancetta bacon
1 minced garlic clove
1 cup chicken stock
1/2 cup heavy bechamel
Cayenne, salt and pepper
Slowly stew onions and collards with pancetta, garlic and chicken stock until tender. Continue cooking until liquid reduced. Remove pancetta and fold in bechamel. Season. Roll collard mixture into balls and freeze.
2 each russet potatoes
1/4 cup semolina flour or as needed
1/4 cup corn starch or as needed
2 egg yolks
Nutmeg, Ccayenne, salt and pepper
Wrap potatoes in foil and bake until well done. Allow to cool then put through a food mill. Work in remaining ingredients and season. Remove collard balls from freezer and wrap with potato dough. Poach croquettes until they float, remove from water, dry and fry in oil until golden brown.
For the Red Pepper Sauce
1 tablespoon olive oil
2 each roasted red peppers
1 teaspoon crushed garlic
1/4 cup dry sherry
Juice from roasted peppers
Pinch fresh chopped thyme, parsley
Salt and pepper
2 tablespoons unsalted butter
Peel, seed and dice peppers. Slowly stew in olive oil with garlic. Add sherry, cook until alcohol evaporated. Add pepper juice, thyme, parsley and season. Stir in cold butter just before serving.
To Complete the Dish
Parsley colored bread crumbs
Fried leeks
Before serving, remove quail roulades from refrigerator and plastic wrap. Allow to come to room temperature. Gently sear quail until golden brown and heat in a 350° oven. Remove from oven, roll in parsley breadcrumbs, slice and serve with croquettes and pepper sauce. Garnish with fried leeks.