Bananas Foster

A Traditional New Orleans Food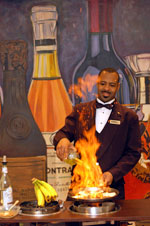 Brennan's Banana Foster
In the early 1950s New Orleans was the major port of entry for bananas shipped from Central and South America. Owen Brennan, owner of Brennan's Restaurant, challenged his chef, Paul Blange, to include bananas in a new dessert. It was Owen's way of promoting the imported fruit. At the same time, Holiday Magazine asked Owen to provide a new and different recipe to include in an article on the restaurant.
And so was born Bananas Foster, a decadent dessert named for Owen's friend, Richard Foster, a local civic and business leader. Today, Bananas Foster is served at Brennan's and other fine New Orleans restaurants. Each year, Brennan's flames 35,000 pounds of bananas for the famous dessert.
Bananas Foster

(Serves 4)
1/4 cup (1/2 stick) butter
1 cup brown sugar
1/2 teaspoon cinnamon
1/4 cup banana liqueur
1/4 cup dark rum
4 scoops vanilla ice cream
4 bananas, cut in half, lengthwise, then halved
Combine the butter, sugar and cinnamon in a flambé pan or skillet. Place the pan over low heat on an alcohol burner or on top of the stove, and cook, stirring until the sugar dissolves. Stir in the banana liqueur, then place the bananas in the pan. When the banana sections soften and begin to brown, carefully add the rum. Continue to cook the sauce until the rum is hot, then tip the pan slightly to ignite the rum. When the flames subside, lift the bananas out of the pan and place four pieces over each portion of ice cream. Generously spoon warm sauce over the top of the ice cream and serve immediately.