Crawfish Étouffée

A Traditional New Orleans Food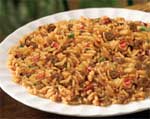 Zatarrain's Crawfish Etouffee
One of the best things about visiting New Orleans is that when you come here, you get to have food that you couldn't have anywhere else in the country. And even if you can find these dishes in your hometown, it will never taste as good as it does when prepared in New Orleans by a New Orleanian. Crawfish Étouffée is one of the best examples of this theory.
The word étouffée (pronounced eh-too-fey) comes from the French word "to smother." The best way to describe the dish is a thicker stew, seasoned to perfection and chock full of delicious, plump crawfish (or shrimp, depending on the season). In some ways, its similar to gumbo – same types of Creole seasonings, served over rice, and made with a roux, but unlike gumbo, étouffée is made with a "blonde" roux, giving it a lighter color and a very different flavor.
Make sure you stop off for a little étouffée during your visit – you're sure to find yourself wanting more. Got the urge to bring the Cajun Country into your own kitchen? Go ahead and try out this recipe at home.
Crawfish Étouffée Recipe

Makes 4 Servings
1 stick (1/4 pound) butter
2 cups chopped onions
1 cup chopped celery
½ cup chopped bell peppers
1 pound peeled crawfish tails
2 bay leaves
1 tablespoon flour
1 cup water
1 teaspoon salt
¼ teaspoon cayenne
2 tablespoons chopped parsley
3 tablespoons chopped green onions
Melt the butter in a large skillet over medium-high heat. Add the onions, celery, and bell peppers and sauté until soft and golden, 10 to 12 minutes. Add the crawfish and bay leaves. Reduce the heat to medium. Stirring occasionally, cook until the crawfish begin throwing off a little liquid, 10 to 12 minutes.
Dissolve the flour in the water. Add to the crawfish mixture and season with salt and cayenne. Stir until the mixture thickens, about 4 minutes. Add the parsley and green onions and cook for about 2 minutes.
Remove the bay leaves and serve.