Jambalaya

A Traditional New Orleans Food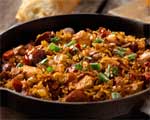 Zatarain's Jambalaya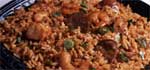 Jambalaya
New Orleans is famous for a lot of different meals – chief among them is the traditional rice dish known as Jambalaya. While various ingredients in Jambalaya can vary from chicken, sausage, seafood, or any mixture of the three, the bold flavor and perfect spice is always present. The Dictionary of American Food and Drink states that the dish was born late one night when a traveler arrived at a New Orleans Inn long after dinner had been served. According to the story, the inn's cook, a man named Jean, was told to "balayez," or "throw something together" to feed the man. The results were delicious and the name later evolved to "Jambalaya."
Jambalaya becomes especially popular at family gatherings, since it's very easy to alter the recipe in order to accommodate large numbers of hungry guests. Try out the dish from a local restaurant – we promise, you'll love it! Make it when you get home, and you'll become a jambalaya pro in no time! Throw in different variations of seafood, sausage, spices or hot sauce to make it truly your own.
Jambalaya
1 pound boneless skinless chicken breasts, cut into 1-inch cubes
1/2 pound andouille sausage, diced
1 (28-ounce) can diced tomatoes
1 medium onion, chopped
1 green bell pepper, seeded and chopped
1 stalk celery, chopped
1 cup reduced-sodium chicken broth
2 teaspoons dried oregano
2 teaspoons Cajun or Creole seasoning
1 teaspoon hot sauce
2 bay leaves
1/2 teaspoon dried thyme
1 pound frozen peeled and cooked shrimp, thawed
2 cups cooked rice
In a slow cooker, combine chicken, sausage, tomatoes, onion, green pepper, celery, and chicken broth. Stir in oregano, Cajun seasoning, hot sauce, bay leaves, and thyme.
Cover, and cook on LOW for 7 hours or on HIGH for 3 hours. Stir in the thawed shrimp, cover and cook until the shrimp is heated through, about 5 minutes. Discard bay leaves and spoon mixture over cooked rice.