Red Beans and Rice

A Traditional New Orleans Food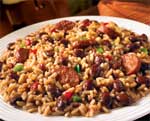 Zatarain's Red Beans and Rice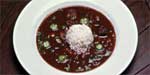 Red Beans and Rice
In most cities, Monday is known as the dreaded day when the weekend has ended and the workweek has begun. In New Orleans, locals know they can always look forward to one very tasty Monday tradition – Red Beans and Rice.
Mondays used to be the traditional "wash day" of the week. Traditionally, women of the house would put on a pot of red beans to cook all day while they tended to the laundry, since the meal required little hands-on attention. The beans were largely seasoned by the leftover hambone from the previous night's dinner.
While Mondays may not be laundry day anymore and hams may not be served every Sunday night, Red Beans and Rice still appears on most menus and in many homes every Monday and is usually accompanied by sausage or pork chops on the side. Every New Orleanian has their favorite place to go for Red Beans, whether it is from their mama's house or the kitchen of a famed New Orleans chef. Its such a local favorite, you won't have a terribly hard time finding yourself a plate of red beans, even if its not Monday.
And if you find yourself back in your hometown wishing you could cure your Monday blues with some delicious red beans, here is a recipe to fill your cravings and impress your friends and family – though feel free to spice it up to your taste because everyone has their own way of preparing this Crescent City comfort staple.
Red Beans and Rice Recipe
1 pound dried red beans, rinsed and sorted over
3 tablespoons bacon grease
1/4 cup chopped tasso, or chopped ham
1 1/2 cups chopped yellow onions
3/4 cup chopped celery
3/4 cup chopped green bell peppers
1/2 teaspoon salt
1/2 teaspoon freshly ground black pepper
Pinch cayenne
3 bay leaves
2 tablespoons chopped fresh parsley
2 teaspoons fresh thyme
1/2 pound smoked sausage, split in half lengthwise and cut into 1-inch pieces
1 pound smoked ham hocks
3 tablespoons chopped garlic
10 cups chicken stock, or water
4 cups cooked white rice
1/4 cup chopped green onions, garnish
Place the beans in a large bowl or pot and cover with water by 2 inches. Let soak for 8 hours or overnight. Drain and set aside.
In a large pot, heat the bacon grease over medium-high heat. Add the tasso and cook, stirring, for 1 minute. Add the onions, celery and bell peppers to the grease in the pot. Season with the salt, pepper, and cayenne, and cook, stirring, until the vegetables are soft, about 4 minutes. Add the bay leaves, parsley, thyme, sausage, and ham hocks, and cook, stirring, to brown the sausage and ham hocks, about 4 minutes. Add the garlic and cook for 1 minute. Add the beans and stock or water, stir well, and bring to a boil. Reduce the heat to medium-low and simmer, uncovered, stirring occasionally, until the beans are tender and starting to thicken, about 2 hours. (Should the beans become too thick and dry, add more water, about 1/4 cup at a time.)
Remove from the heat and with the back of a heavy spoon, mash about 1/4 of the beans against the side of the pot. Continue to cook until the beans are tender and creamy, 15 to 20 minutes. Remove from the heat and remove the bay leaves.
Serve over rice and garnish with green onions.