Whitney White Linen Night

When:
TBA
Where:
Julia Street
Cost:
FREE!
More Info:
Click Here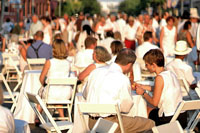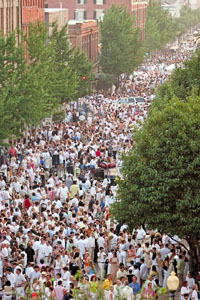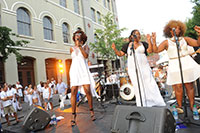 In the years before air conditioning in homes and vehicles, New Orleanians did a number of things to lessen the effects of the summer heat. One of them was wearing white linen clothing. Men wore white suits to reflect, rather than absorb, the sun's heat, and women wore white dresses for the same reason.
The white linen tradition is revisited every summer in the city's Warehouse Arts District on the first Saturday night in August during Whitney White Linen Night. Those who get into the spirit of the occasion wear white outfits and some even wear white hats as they leisurely stroll through the art galleries along Julia Street and adjacent side streets.
As you visit the galleries with their fabulous artworks on display and for sale, you can keep cool with complimentary hand-held fans, available at each gallery and at booths along the street. There will also be samplings of New Orleans' world-famous cuisine from local restaurants and cool drinks to sip on as you gallery hop. The outdoor celebration includes stages and live entertainment provided by some of New Orleans' most eclectic and talented musicians.
The official post party at the Contemporary Arts Center is a summer must-attend! You can expect to hear great music, view amazing art and mingle with an enthusiastic crowd.
For more information call the Contemporary Arts Center at (504) 528-3805 or visit www.cacno.org. For a complete listing of art galleries go to click here.