A Rich Gay Heritage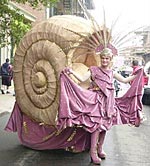 A fun, fabulous Krewe of Petronius reveler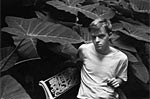 Truman Capote in New Orleans; photo by Henri Cartier-Bresson, circa 1947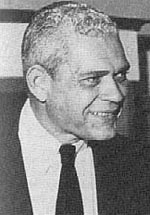 The infamous Clay Shaw
Mayor Marc H. Morial extended domestic partner benefits to city employees
When Ellen DeGeneres was named to host the 2007 Academy Awards broadcast, few people knew how long she had been preparing for the gig. Most would be surprised to learn that she got her start as an awards show host in 1981, when she was emcee of the New Orleans Mr. and Ms. Gay Pride Contest.
Ellen, of course, is now one of the city's brightest stars, continuing a long and illustrious tradition.
During the city's early history, gay people were largely invisible, although same-gender communities existed throughout the culture. Although not self-identified, some prominent figures such as multi-millionaire John McDonogh – a life-long bachelor – might be recognized today as a gay man.
As the nineteenth century ended and a wild new music was being birthed in the saloons and bordellos of Storyville, Tony Jackson was crowned the "unrivaled king" of the early jazz pianists. "An epileptic, alcoholic, homosexual Negro genius," he composed countless songs, including "Pretty Baby," inspired by a lover.
By the time writer Lyle Saxon arrived in 1919, the French Quarter was little more than a run-down slum. Saxon championed its preservation and promoted the Quarter as a welcoming home for artists. Among them was Truman Capote, who was born here and returned as a nineteen-year-old to write his first novel in a slave quarter apartment on Royal Street.
Tennessee Williams arrived in 1938 and knew immediately he had found his spiritual home. "A Streetcar Named Desire" would become the most famous New Orleans work of literature. Pioneering photographer Frances Benjamin Johnston retired to New Orleans in 1940, living in her Bourbon Street townhouse until her death in 1952.
A lively gay social world had long existed, but after Prohibition ended in 1933, it became more public. In 1936, a bar opened at the Lafitte Blacksmith Shop on Bourbon Street. Although its clientele was a varied group, gay men and women knew they were welcome. But in 1953, the owners lost their lease. They moved to the next corner and reopened as Café Lafitte in Exile – now one of the oldest gay bars in the country.
Private gay socializing flourished in mid-century New Orleans. The oldest continuing gay event, the Fat Monday Luncheon, began in 1949, and the oldest gay social organization, the Steamboat Club, was launched in 1953. The Krewe of Yuga was the first gay Carnival club in 1958, followed by the Krewe of Petronius in 1961.
The Gay Liberation movement was slower to develop in New Orleans than in many other cities. This was due in part to local politics. In 1967, District Attorney Jim Garrison arrested Clay Shaw, a prominent gay business and civic leader, and charged him with conspiring to assassinate President John F. Kennedy. Although Shaw was eventually acquitted, the affair had a chilling effect on political organizing.
Nevertheless, a small group of activists founded the Gay Liberation Front of New Orleans in late 1970. Although the group dissolved within a year, participants subsequently organized a Metropolitan Community Church congregation and a chapter of the national lesbian organization, Daughters of Bilitis.
The emerging community suffered a great tragedy in June 1973, when a deliberately set fire in the Upstairs Lounge killed 32 people.
But the indomitable New Orleans spirit prevailed. Southern Decadence started as a small party in 1972, the same year as the Tulane University Gay Students Union. The 1970s also saw the arrival of IMPACT newspaper, the Faubourg Marigny Bookstore and the first gay pride events.
The Gertrude Stein Society, which began in 1975, brought together a group of men and women who were instrumental in developing an active community infrastructure in the 1980s: the Louisiana Gay Political Action Caucus (1980), the State Gay Conference (1981), the New Orleans Gay Men's Chorus and a local chapter of P-FLAG (both in 1982), and the NO/AIDS Task Force (1983).
The 1990s were a decade of political accomplishment. In 1991, the New Orleans City Council passed a gay non-discrimination ordinance. Shortly afterwards, Gov. Edwin W. Edwards issued a far-reaching executive order, prohibiting discrimination in state employment and services. In 1997, Louisiana earned the distinction of being the first state in the Deep South to pass a hate crimes law that covered sexual orientation, and New Orleans Mayor Marc H. Morial extended domestic partner benefits to city employees. And, in 1998, New Orleans became one of the earliest cities to add gender identity to its list of groups protected from discrimination.
As the century closed and the new millennium dawned, GLBT people in New Orleans could look with pride at a community that had achieved much in its political movement, while continuing to develop its vibrant social life.