Free People of Color and Creoles
By Gregory Osborn
Originally printed in The Soul of New Orleans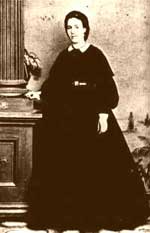 Henriette Delille (1813-1862), a daughter of one of the oldest families of free people of color in New Orleans, founded the Sisters of the Holy Family, the second oldest Catholic religious order for women of color.
Free People of Color (F.P.C.) were Africans, Creoles of Color (New World-born people of African descent) and persons of mixed African, European and or Native American descent. Although the term "Creole" has been debated over the past 100 years, under Spanish colonial Louisiana and the early American period, the word "Creole" was used to describe slaves native to the New World and by F.P.C. or Creoles of Color. Use of the term by whites to describe themselves was inconsistent and probably did not become common until after the large influx of Americans arrived in the city after the Battle of New Orleans in 1815.
In Louisiana, the first F.P.C. came from France or its colonies in the Caribbean and in West Africa. During the French colonial period in Louisiana, F.P.C. were a rather small and insignificant group. During French rule from 1702-1769, there are records for only 150 emancipations of slaves. The majority of slaves freed in Louisiana's colonial period was during the Spanish reign from 1769-1803, with approximately 2,500 slaves being freed.
The majority of these slaves were Africans and unmixed blacks who bought their freedom. Later on, this initial group would be augmented by Haitian refugees and other F.P.C. from the Caribbean, Mexico, Central and South America, other parts of the United States and from around the world.
Besides self-purchase and donation of freedom, slaves sometimes earned freedom for meritorious service in battle or saving the life of their masters. A significant amount of slaves became free because they were the children of white native-born and European fathers who sometimes openly acknowledged their mixed offspring and who also usually freed the mother of their children. It would be several generations before mulatto, quadroon and octoroon women would become the common-law wives and mistresses of white men.
The reason for the high number of F.P.C. in New Orleans was largely due to the influx of Haitian refugees into the city in 1809. Approximately 10,000 people arrived in New Orleans with roughly a third being F.P.C., another third slaves and the remaining whites. By the eve of the Civil War in 1860, the reported total population for F.P.C. in Louisiana was 18,647 people with the majority being in New Orleans with a census tally of 10,689 people. However, these figures seem too low given a natural increase and the much larger figures reported in 1840 and 1850. Although some F.P.C. did migrate to Haiti, Mexico, and to Europe, these low figures were probably due to under-reporting by Louisiana census takers.
Free People of Color were highly skilled craftsmen, business people, educators, writers, planters and musicians. Many free women of color were highly skilled seamstresses, hairdressers and cooks while some owned property and kept boarding houses. Some F.P.C. were planters before and after the Civil War and owned slaves. Although shocking and incomprehensible to many people today, the fact that some F.P.C. owned slaves must be viewed in its historical context.
Today the legacy of Free People of Color is still with us, in jazz, Creole cuisine and numerous artists, politicians and educators.