German History in New Orleans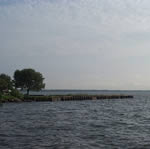 Lac des Allemands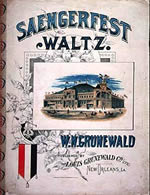 New Orleans hosted the North American Saengerfest in 1890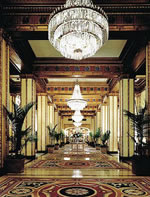 The elegant Grunewald Hotel is known today as The Roosevelt
Just west of New Orleans is a body of water called Lac des Allemands, which is French for "Lake of the Germans." The surrounding area, which to this day is known as the German Coast, had been owned by a Scottish speculator named John Law who was seeking workers to increase the value of his land. In the early 1700s, he promoted his holdings in war-torn Germany, particularly in the Rhineland.
Although more died in transit than didn't, those Germans that safely arrived began the difficult task of establishing farms on buggy, swampy land. These hard-working Germans are credited with feeding the struggling settlement of New Orleans, allowing it to survive, and introducing the accordion into Cajun music.
From Germany to New Orleans
German immigration into the port of New Orleans crested in the 1840s and 1850s with tens of thousands arriving each year. Many of them moved on to western destinations, but New Orleans remained an important center for German life in the United States. In 1847, the German Society of New Orleans formed to help immigrants become acclimated in America. The Civil War immediately halted all immigration to the Crescent City, and afterwards, German immigration slowed to a trickle because of yellow fever fears, more immigrants debarking in New York, and improving conditions in Germany.
Still, in the early 1900s, over 250 German-America societies existed in Louisiana, primarily in New Orleans. Certain schools taught German to immigrants' children, and German churches grounded the community. The first World War (and then the second) obscured much of the German presence in New Orleans. Laws prohibited the teaching of German, forbid the display of German flags, and suppressed German culture in general. Many of the German-American organizations disbanded.
Cultural Influence
The elegant Grunewald Hotel was compelled to change its name to the Roosevelt. It was in the Grunewald Hotel's Sazerac Bar where the Sazerac, the quintessential New Orleans cocktail, became famous.
German breweries also once flourished in New Orleans, many near the foot of Canal St. In the 1850s, there were some thirty breweries, each with its own beer garden. Although prohibition killed most off, beer gardens were once centers of New Orleans social life, filled with drinking, dancing, and music.
Other industries were dominated by Germans in New Orleans, and their legacies continue. For a time, almost all of the city's draymen were German. One of their tasks was to haul coffins during funerals, leading to the establishment of many New Orleans funeral homes with German names. German-owned bakeries still supply New Orleanians their essential baked goods, such as Haydel's with Mardi Gras king cakes, and Hubig's with the famous pies that New Orleanians can't live without.