Irish History in New Orleans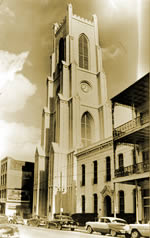 The magnificent St. Patrick's Church was built in 1833 for Irish parishoners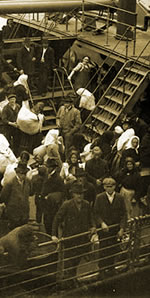 Irish Immigrants found cheap passage to New Orleans as human ballast on cargo ships.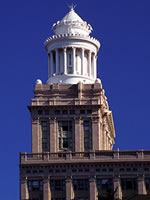 Though the bak is now owned by Capital One, this familiar tower will forever be known to New Orleanians as "Hibernia Tower"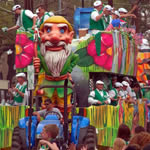 The city's Irish—and non-Irish—turn out for the annual St. Patrick's day parade on Magazine Street.
New Orleans has always held an appeal to the Irish due to its Catholic traditions and safe harbor for anti-British sentiments. An early wave of Irish immigrants, fleeing British persecution at the end of the 1700s, landed in New Orleans and became well integrated into the economy and social life of the city.
Background
The first St. Patrick's Day celebration was held in 1809. Irish social and benevolent organizations were formed, and Irish theater thrived. The still existing St. Patrick's Church was founded in 1833 because Irish parishioners wanted to attend services in English, not French.
Immigrants from Ireland started arriving in significant numbers as famine began to drive them out of their homeland in the 1820s, a famine which peaked in the 1840s. As New Orleans was a thriving port city, the itineraries of many boats ended here and the passengers simply stayed. In addition, Irish immigrants often found cheap passage to New Orleans because after cotton ships unloaded their cargo in Liverpool, captains needed to load their holds up with human ballast for the return trip. Conditions, needless to say, were far from ideal.
Living conditions for the thousands of Irish immigrants once they arrived in New Orleans were also far from ideal. Poor and living in slums, the Irish were particularly susceptible to a series of epidemics that periodically swept the city. Many Irish labored on the New Basin Canal, a dangerous project which claimed thousands of lives. Still many more immigrants came to seek opportunities in New Orleans.
Cultural Influence
Irish immigrants even influenced the local accent. First-time visitors may expect the city dialect to affect a Southern drawl, but really it's more like an accent out of Brooklyn where many Irish and other European immigrants also settled. In "New Awlins," a crawfish boil is a "crawfish berl."
Until it was bought by Capital One in 2005, Hibernia Bank was the largest local bank in Louisiana. Hibernia is an old term for Ireland, and the bank, founded in 1870, prospered and quickly grew because of its Irish clientele.
Although not really an Irish neighborhood anymore, an uptown area near the Garden District called the Irish Channel retains its original name, architecture, and neighborhood feel. It is still the center of St. Patrick's Day celebrations, with Magazine St. parade riders throwing cabbages, carrots and potatoes (in addition to green beads and Moon Pies) to the crowds.
Points of Interest
For an authentic experience of Irish history and charming architecture, you must visit the famous Gallier House on Royal Street. James Gallier, Sr., and his son James Gallier, Jr., were architects of Irish origin who designed many landmark buildings in the New Orleans, including Gallier Hall on St. Charles Avenue (the old City Hall). Gallier House in the French Quarter was designed by James Gallier, Jr., to serve as his residence, and it's now a charming museum.

Another landmark of Irish influence is the Margaret Haughery statue on the corner of Prytania and Camp Streets. Margaret Haughery was a destitute Irish immigrant who became a prominent businesswoman and philanthropist in the city. When she died in 1882, she was widely mourned. In commemoration of her good works, this statue of her comforting an orphan was erected soon after, and it is reported to be the first US statue to honor a woman.

And of course one of the most iconic Irish cultural landmarks to New Orleans is St. Patrick's Church. Founded in 1833, this Gothic church is a now National Historic Landmark. Once a center of Irish immigrant life, it's still active for Irish descendants and other Catholics. With beautiful stained glass, wood plaster details, and vaulted ceilings, it's one of the oldest buildings still standing in the Central Business District.
Irish Pubs
Like any city with a history of Irish immigration, New Orleans has its fair share of Irish pubs spread around the city. The pubs are known for a woody, unpretentious ambiance and an appreciation for great beers on tap. Some pubs in the French Quarter offer live music, often (but not always) Irish in nature.
Check out our list of Irish pubs to visit:
Parasol's Bar
2583 Constance St.
897-5413

Finn McCool's
3701 Banks St.
586-9080

Fahy's Irish Pub
550 Burgundy St.
586-9806

The Kerry Pub
331 Decatur St.
527-5954

Ryan's Pub
241 Decatur St.
523-3500

Pat O'Brien's
718 St. Peter St.
525-4823

Mick's Bar
4801 Bienville St.
482-9113