Social Aid And Pleasure Clubs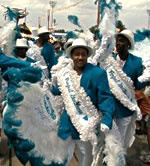 Perfect Gentlemen S & P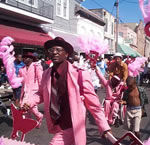 Steppin'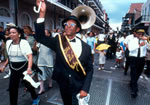 Second Line in the Quarter
Strutting and jumping and high-stepping underneath their decorated parasols, blowing whistles and waving feathered fans, the African-American members of New Orleans' social aid and pleasure clubs are the organizers, originators, and sponsors of the second line parades for which the city is famous. The brass band that follows the parade's grand marshal and club members, who are always dressed in coordinated suits and classy hats, blast out exuberant rhythms to propel everyone's high-spirited march through the streets. The club and brass band are known as the first line, and the audience that forms behind the parade to join in the festivities is the second, hence the term second line parade.
African-American social aid and pleasure clubs aren't just about parading, however. They grew out of organizations of the mid to late 1800s called benevolent societies, which many different ethnic groups in New Orleans formed. Serving a purpose that today has largely been supplanted by insurance companies, benevolent societies would help dues-paying members defray health care costs, funeral expenses, and financial hardships. They also fostered a sense of unity in the community, performed charitable works, and hosted social events. Benevolent societies always had strong support in the African-American population, and some scholars trace the roots of the African-American societies back to initiation associations of West African cultures from where the majority of New Orleans blacks originally came.
For the burial of a member, African-American benevolent associations would often hire bands to play somber, processional music on the way from the church to the cemetery. On the way back, the music would become upbeat and joyous with mourners now celebrating the deceased's life; tears about the person who had passed gave way to gratitude that the person had even been blessed to exist. The brass bands that played in these processions, known as "jazz funerals," mixed military marching music with African rhythms.
In modern times, social aid and pleasure clubs no longer serve all the former functions of benevolent societies, but they do continue to unify communities and neighborhoods and are source of cultural pride among African-Americans. Club dues normally cost hundreds of dollars a year along with additional expenses for the sharp suits, shoes, and general finery that members wear.
Before Hurricane Katrina, New Orleans African-American social aid and pleasure clubs numbered in the forties, and a different club "rolled" just about every Sunday except during the summer. While the parades were rarely advertised or well publicized, second line devotees would know the time and location of the route. Social aid and pleasure clubs are now struggling, but some are still parading. Those who love the tradition come out and bring a handkerchief to wipe away tears and to wave aloft.