Buddy Bolden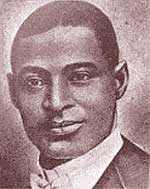 Buddy Bolden
Out of the stillness of the evening a horn uttered its impassioned plaint. A drummer began an endless insistent beat, pounding. Other players took up the music's wail, each in his own style, sometimes jarring, but for the most part blending with the rest. Feet shuffled, and a hoarse voice sang in a mood that was half sad memory, half tragic appeal. Then the tempo quickened, the mood brightened; and always, under it, through it, came the pounding beat, drumming through the night.
It wasn't the music of the upper-class Creoles in their Royal Street courtyards. It sounded nothing like the polite European works heard in Garden District drawing-rooms. There was little suggestion of such French and Italian arias as one heard at the French Opera. Nor did it obviously resemble the laments and the work tunes that the Negroes sang in the fields, or even the kind of African music that New Orleans was used to hearing at Congo Square. Yet, actually, it derived from each of these in greater or lesser degrees; here and there. It had something of all of them, plus a quite new and different element unmistakably New Orleans. In charter. For in the "now" dark part of town, jazz was being born.
First of the great New Orleans jazz figures was Buddy Bolden, a barber who blew his horn to glory. He had two loves, music and women; in both he won money, local fame and jewels. Friends remember how, as he marched along, one grinning girl held his coat, another his hat, and during his moments of rest, a third took his horn. Let Buddy smile too long at any one of them, and the other two tried to tear her eyes out.
Buddy made up one song after another; when he wasn't playing his horn, his rich voice was stirring the girls, "giving 'em the crawls." His playing had one feature that later jazz authorities recognized as indispensable — "the trance," an ability to sink himself in the music until nothing mattered but himself and the cornet, in fervent communion.
As the 1900s approached, New Orleans had dozens of fair-sized Negro dance places in and around Perdido, up along South Rampart and below Canal as well. Big Easy, Come Clean, Funky Butt — the list is a long one. It was at Funky Butt that a small, bulkily built boy listened nightly to the silver magic of Buddy's notes. Nobody paid any attention to him then. He was young Louis Armstrong.
Deeper, deeper, Buddy Bolden plunged into his music. Ever more deliriously rose the notes. He dominated the dancers of black New Orleans, playing at saloons, lakefront parties and certain white parties. As they walked through the night men and women heard the wild notes climbing the scales, and knew it was The King. The King worked hard, too hard, at his music and at his girls. He began to startle the dancers with almost demonic musical passages; then he sloughed off and went sad. In 1907, in the midst of a parade, with his women all around him, he halted, screamed and frothed at the mouth. A little later the family took him to the state mental hospital at Jackson, and for nearly twenty-five years he remained there a broken man.
The New Orleans style had begun around 1900 with brass ensembles which, like ragtime, took the marching military bands as their models. In addition to cornets, trombones, and an occasional tuba, these groups included clarinets, fiddles, and banjos or guitars. The bass and the piano were excluded because of their size, although the piano was a popular solo instrument in the dives, honky-tonks, and "sporting houses." The marching bands were famous for accompanying funeral processions back from the cemetery with a spirited version of "Didn't He Ramble (Before the Butcher Cut Him Down);" however, they played at all sorts of functions from picnics to "breakdowns" (community dances).
There was a virtual academy of music in the streets of New Orleans, dominated by legendary aggregations of black and Creole musicians, most of whom worked simultaneously as laborers and artisans. Buddy Bolden's band with Bunk Johnson was playing in honky-tonks as early as 1895, and the Olympia Brass Band existed on and off from 1900 to 1915 led by coronetist Freddie Keppard, with Joe Oliver playing second cornet and Alphonse Picou, Sidney Bechet and Lorenzo Tio on clarinets. Oscar "Papa" Celestin formed the Original Tuxedo Orchestra in 1910. Keppard later led the Original Creole Band, while Joe Oliver worked for trombonist Kid Ory in his Brownskin Band. When Oliver left for Chicago, as Keppard had done, Louis Armstrong replaced him on coronet. There were probably a hundred of these seminal groups, and their players seemed infinitely interchangeable. All of them understood the basic premise of the music: collective improvisation.
If there was anything that could bring the prideful Creole and robust black together in New Orleans, it was the growing white population which viewed colored citizens of any shade or hue as inferior and threatening. In 1894, the enactment of Code No. 111 invoked "white supremacy" and effectively evicted Creoles from the white downtown area. As they gradually and reluctantly emigrated uptown, Creoles and blacks found their musical traditions beginning to mingle. The Creoles learned to their dismay that they had to play "rowdy" like Buddy Bolden to get any of the Storyville jobs. "See, us downtown people, we didn't think so much of this uptown jazz until we couldn't make a living otherwise," old Paul Dominguez bitterly complained to Alan Lomax.
The most touching stories are of the younger Creole students learning to improvise in the rough, spirited style under the tutelage of the black band leaders. Alphonse Picou, who had studied clarinet formally, recounted his initiation to Nat Hentoff and Nat Shapiro for their compendium of interviews Hear Me Talkin' to Ya. Boo Fortunes, a trombonist (and a barber by trade), had invited Alphonse to the band rehearsal after hearing the sixteen-year-old practicing in his room:
"Is there any music?" He said, "Music? You don't need none." I said, "How am I going to play?" He said, "You're going to come in on the choruses." He said that when I couldn't come in, to stay out and listen until I would come in. I did just what he told me and we got into it, and through with it, and the whole band shook my hand and told me I was great.