Louis Armstrong
"Satchmo" – as he was affectionately called by his legions of friends – never boasted like his fellow New Orleanians, jazzmen Jelly Roll Morton and Bunk Johnson, that he invented jazz, or that he was even one of its better players. But everyone who heard him play or hears his inimitable style today can only agree that Louis Daniel "Satchmo" Armstrong was perhaps the best jazz musician and the greatest entertainment personality the world has ever known.
The universal popularity of jazz can be directly attributed to the infectious style of performance that "Satchmo" gave and the unselfishness that characterized his persona. He literally took New Orleans-style music from its raw origins and introduced it to the world as a refined art form.
Armstrong was born in a poor section of New Orleans to an unwed mother on August 4, 1901. (His birthplace near the corner of Tulane and Broad avenues was torn down in 1964 to make way for a new court building and police headquarters. A plaque, dedicated 100 years later, marks the site today.)
During much of his youth, Armstrong worked at various unskilled jobs, including at a tailor shop owned by the Karnofsky family in the 400 block of South Rampart Street that still stands today. He also sold coal and had a youthful propensity for mischief. On a dare from a friend, he fired a pistol into the air on South Rampart Street and was arrested. Sentenced to the Colored Waif's Home in the city's Milneburg section, he eventually came under the influence of "Captain" Peter Davis. Sensing that young Armstrong possessed a burning desire to learn, Davis provided the basic musical training on the cornet to young Louis. With that kindly gesture musical history was on its way to being written.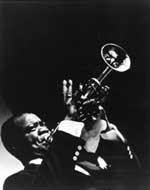 After serving his sentence, Armstrong began playing his horn in the noisy, smoke-filled musical clubs of what was termed the "Black Storyville," the section of New Orleans in the vicinity of South Liberty and Perdido streets (the present site of New Orleans City Hall). Honing his skills by playing in early brass bands with Joe "King" Oliver, Bunk Johnson, Kid Ory and others, he ended up replacing Oliver in Ory's band in 1919 when Oliver moved to Chicago.
In 1922, he was ready to join his idol, "King" Oliver's Creole Jazz Band in Chicago. By the time of his arrival in the Windy City he had become an accomplished musician and Chicago was beginning to supplant New Orleans as the epicenter for jazz in America. He was in the right place at the right time. Much of the influence that Armstrong brought to Chicago had been acquired in New Orleans at the time jazz was evolving and developing into what would become the premier musical art form in America.
But even while living like a king in Chicago (and later New York) Armstrong remained attached to and nostalgic for the New Orleans of his roots. He wrote in his autobiography, Satchmo, "There were all kinds of thrills for me in Storyville. On every corner I could hear music. And such good music...And that man Joe Oliver! My, my, that man kept me spellbound with that horn of his."
By the mid-1920s, Armstrong had surpassed in popularity even his mentors. His Hot 5 and Hot 7 bands really WERE hot! One musical innovation followed another, from his solos to his gravelly vocals to the rhythmic progressions that expanded the boundaries of the jazz genre. In the early '30s, Armstrong's popularity had reached such epic proportions that he and his band toured Europe, a major milestone for a performer, and especially a young black performer.
As the years passed, Armstrong's persona and star appeal continued to grow. He enjoyed recording deals with major labels and movie deals with major Hollywood studios. He played in clubs and theaters and other major performance venues that no African American had ever performed in. He appeared in more than a dozen films with major stars of the era, toured the U.S. and abroad with popular White musicians and bandleaders and, before the advent of television, he was widely popular on the radio.
As "Satchmo," (short for "Satchel Mouth," a nickname he earned for his trademark wide grin) his popularity never waned during his entire life. He played for presidents in the White House, in palaces for European royalty and for high-ranking officials on his beloved continent of Africa. He frequently toured internationally as a special envoy for the U.S. State Department and he represented his country and New Orleans with dignity, charm and class. At every stop he made over a half century of performing, he always promoted his love for New Orleans and an avowed passion for red beans and rice. But of all the accolades he received, one of the greatest he ever cited was being selected King of Zulu during Mardi Gras 1949. The photo of him as Zulu King made the cover of TIME magazine.
During his long career, Armstrong had many classic hit records, including "Stardust," "When the Saints Go Marching In," "Dream a Little Dream of Me," "Ain't Misbehavin'," "You Rascal You," "Stompin' at the Savoy," "Up a Lazy River" and many more.
In early 1964, at age 62, Armstrong achieved the distinction of being the oldest musician ever to have a #1 song on the BILLBOARD charts. His version of the popular show tune, "Hello Dolly" was the first record to knock The Beatles out of the top position they held for 14 straight weeks with three separate songs.
Late in his career, when he recorded "What a Wonderful World" it was a fitting ode to the life he lived and the legacy he created. He died in New York City on July 6, 1971, a month short of his 70th birthday. He is buried in Flushing Cemetery in the New York City Borough of Queens but his greatest honors have been here in New Orleans.
Two statues in New Orleans have been erected in Armstrong's honor, one on the West Bank in Algiers adjacent to the Canal Street Ferry landing, and the other in the park named for him on North Rampart Street. In 2001, his centennial year, New Orleans International Airport was renamed after him and the Satchmo SummerFest began that same year. A summer music camp for young people also bears his name. His likeness has been seen on hundreds, if not thousands of New Orleans souvenir posters, paintings and other memorabilia. A commemorative postage stamp of him was issued on September 1, 1995 in Louis Armstrong Park.
The legacy of Louis "Satchmo" Armstrong will endure as long as American music is played.