New Year's Eve in New Orleans

When:
December 31
Where:
Jackson Square
Cost:
FREE!

In New Orleans, we celebrate New Year's Eve a little bit different from most places. Sure, we have funny hats and noisemakers (if you want them), but we add a little pizzazz to the occasion by ringing in the New Year our own way.
For the biggest party in the city, head down to Jackson Square – the Quarter is packed with festive partygoers eager to count down the time until the New Year arrives. And because New Orleans does everything a little differently, don't expect your run of the mill New Years ball drop; instead "Baby New Year" drops from its perch on the top of Jax Brewery followed by a magnificent fireworks show over the Mississippi. Follow the crowds to Bourbon Street and party til' the early morning, or break away from the group and find your own special spot to celebrate in.
Are outdoor celebrations and big crowds not for you? Make a reservation at one of the city's many fine restaurants and celebrate the evening over delectable meals and of course, lots of bubbly – 'tis the season, after all. Many restaurants offer special deals or packages for the evening, so make sure you check ahead to ensure the perfect night for you, your loved ones and friends.
In the mood for live music? Check out whose playing the biggest shows in town. New Years concerts feel more like parties – many offer hor d'ouevres and open bars a flat cover fee. Bigger name venues like Tipitina's and the House of Blues usually throw quite the festive fete, but smaller, more intimate bars and clubs also feature amazing entertainment to make sure your New Years celebration is unforgettable. When planning your trip, make sure you check out who is playing where and since some venues sell out before the big night, check and see if you can purchase tickets ahead of time.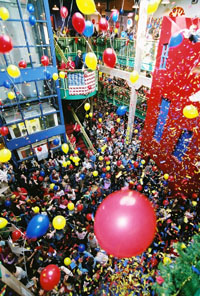 If you're looking for a celebration the whole family can enjoy, there are fun options for kids – and it may even appeal to the young at heart! The Louisiana Children's Museum hosts an annual Countdown to Noon – a festive celebration featuring games, entertainment, and a New Years countdown complete with balloon and confetti drops and a soda-pop toast. Festive hats and noisemakers are also included to make the evening an extra-special affair. Similarly, the Audubon Zoo hosts a "Noon Years Eve" celebration, so your little party animal can ring in the New Year in one of the country's top-rated Zoos. This event features live music, games and prizes, and a countdown with sparkling apple cider.
Whether your ideal New Years is spent in fancy cocktail attire, or comfy blue jeans, with all of your closest friends and relatives, or in a crowd full of new faces, the perfect evening awaits you in New Orleans.