St. Joseph's Day Altars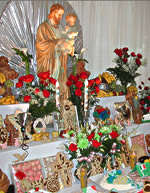 St. Joseph's Day Altar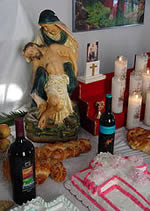 St. Joseph's Day Altar
Each year around March 19, Italians in New Orleans celebrate St. Joseph's Feast Day by decorating church and residential altars with a bounty of food. This custom was brought to the city by Sicilian immigrants and dates back to the Middle Ages, when Sicilian Catholics decorated altars in thanks to St. Joseph, the patron saint of workers, for protecting them from famine. New Orleans had one of the largest concentrations of Sicilian immigrants in the United States, who brought with them not only their delicious cuisine, but also their unique traditions, including their beautiful St. Joseph's altars.
Today, congregations fill altars with handmade breads, cookies, and other treats, which remain on display for several days before being dismantled and given to charity. Fava beans (the only crop to survive one of Sicily's most severe famines) are another common fixture on every St. Joseph's Altar. Even today, Sicilians often carry a dried fava bean for good luck.
One of the first and most beautiful altars in the city can be found at St. Joseph's Church, located at 1802 Tulane Avenue. In its earlier days, the altar was set up on the steps outside of the church. Today's altar is erected inside of the church at the feet of the St. Joseph statue.
Other churches in the New Orleans area also set up altars, so if you're in New Orleans around March 19, make sure you check one out. Don't forget to take a fava bean with you for good luck!