St. Joseph's Day Altars

St. Joseph's Day Altars and Other Traditions
St. Joseph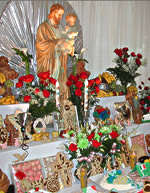 St. Joseph's Day Altar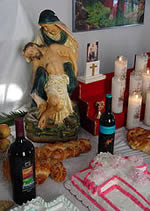 St. Joseph's Day Altar
March 19th marks the Catholic celebration of St. Josephs Day where Catholic New Orleanians construct elaborate altars in honor of this saint. The tradition, commemorating the relief St. Joseph provided during a famine in Sicily, began in the late 1800's when Sicilian immigrants settled in New Orleans. Today, St. Joseph's day is not just for Italian-Americans. Every year, this celebration offers New Orleans natives and visitors a chance to share food with others and for believers, a way to express gratitude for any sort of fortune in their lives.
St. Joseph's Day Traditions
Altars
St. Joseph altars, representing the Holy Trinity, are divided into three sections with a statue of St. Joseph at the head. The devout place candles, figurines, flowers, medals and other items around the alter creating a beautiful, lush and overflowing effect. Since the altars thank St. Joseph for relieving hunger, offerings of food are essential.
Food
Cookies, cakes and breads, often in the form of shell fish, are common decorations for alatars. Fava beans, or "lucky beans" are particularly associated with St. Joseph because they sustained the Sicilians throughout famine. Pick some up for good luck! As tradition has it, the altar is broken up on St. Joseph's day with a ceremony of costumed children, pretending to look for shelter, finding sustenance at the altar. Food and donations are then distributed to the poor.
St. Joseph's Day Parade
Hosted by the American Italian Marching club, one of the largest ethnic group organizations in the southeast, the annual St. Joseph's day parade in the French Quarter is a local favorite. The evening begins with food, wine and Italian music followed by marchers dressed in black tuxedos proceeding to parade until dark. Receive silk flowers and fava beans or dance and sing the hours away with enthusiastic bystanders.
Join the Celebration
Altars are found at local New Orleans churches, especially those with strong Italian roots, but they are also constructed in private homes, halls, Italian restaurants, and public spaces in different communities throughout the city. The Times Picayune, a local newspaper, usually reveals a week in advance where the archdiocese of New Orleans will host altars with visiting hours and food services. Some popular places for a guaranteed look include the St. Louis Cathedral at Jackson Square and the St. Joseph church on Tulane Avenue by the Italian Renaissance Museum. And if you happen to see a fresh green branch over a local's doorway, it means you're invited to participate in the ceremony and to share the food.
Sicilians and Mardi Gras Indians
The tradition traces its roots back to a wave of Sicilian immigration to New Orleans in1880. While many US cities have large Italian-American populations, few have as direct a line to Sicily as New Orleans does –one could say St. Joseph's Day traditions are unique to the Crescent City's culture. Although the reasons are unclear, St. Joseph's Day has also been adopted as an important day for the Mardi Gras Indians, an African-American tradition unique to New Orleans. The Super Sunday Mardi Gras Indian parade the Sunday after St. Joseph's Day is an event you will not want to miss!