St. Patrick's Day in New Orleans
With a little luck of the Irish, you'll be in New Orleans for all of the St. Paddy's Day festivities. New Orleans' history is rich with Irish influence and ancestry, so when this traditional day of Irish celebration rolls around, many places in the city celebrate it in full force – in some cases, the celebrations can last a few days!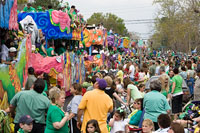 St. Patrick's Day Parade
Photo by Lance W. Moreland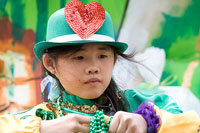 St. Patrick's Day Parade
Photo by Lance W. Moreland
The best place to be for St. Paddy's is Parasol's Bar in the Irish Channel, a neighborhood named originally for its heavy concentration of Irish families. Located near the Garden District, this blowout party is only ten minutes from Downtown New Orleans and the French Quarter and definitely worth the short trip! You'll find the entire block packed with people overflowing out of this tiny neighborhood fixture – but not to worry, even with the large crowds there is more than enough green beer to go around, not to mention a great deal of local flavor and even more flavorful characters.
The annual St. Patrick's Day Parade rolls down the lower section of Magazine Street and St. Charles Avenue. Marchers and riders in the parade will have plenty of green beads and doubloons and, if the visitor is really lucky, he or she might catch a coveted potato or head of cabbage. The tuxedo-clad marchers also hand out paper flowers in exchange for a kiss on the hand or cheek. Make sure you wear something green – with so many parade goers, the law of St. Paddy's day attire is strictly enforced and if you don't follow it, you may just get pinched.
There is also a block party located at Annunciation Square, near Chippewa and Race Streets. Show up and you'll find plenty of Irish music and dancers, food from local restaurants, arts and crafts booths, wine and beer. Off-street parking is available. All proceeds go to benefit St. Michael's Special School. Check the Irish Channel St. Patrick's Day Club website at www.irishchannelno.org for more information on locations, times, and dates for the parade and block party.
If you don't want to get caught up in the block party craziness at Parasol's, you can check out a number of other block parties as well as other Irish pubs throughout the city. Wherever you end up, St. Patrick's Day in New Orleans is truly the pot of gold at the end of the rainbow.