A Good Time Doing Good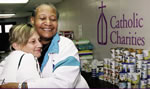 Catholic Charities voluteers hand out hugs and canned goods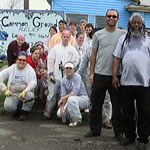 Common Ground's 9th Ward Project Volunteers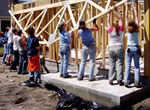 Habitat for Humanity college groups at a wall raising for a home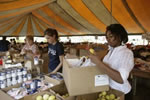 Impact Ministries works with local churches to provide volunteers and disaster relief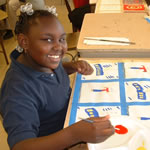 Kidsmart teaches kids positive life skills through the arts.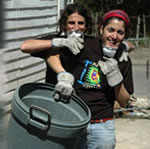 Volunteers from around the world come to participate in the Mardi Gras Service Corps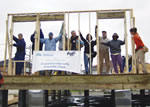 RHINO project volunteers worked with Habitat for Humanity to rebuild homes
The cast of television's The Guiding Light spent a week this winter rebuilding houses on the ravaged Gulf Coast. Not wanting the celebrity treatment they typically receive, the actors and actresses lived in dorms with the other Hands On (see below) volunteers. They woke before sunrise to make breakfast and worked long days gutting houses, hauling trash, hammering sheet rock, painting walls and more. Happily exhausted, they crawled early into sleeping bags on bunks to rest up for the next day's labor.
These performers can afford any spa or white sand beach in the world. I helped host them at one of their stops in New Orleans. The young, wide-eyed, soap opera starlet standing next to me for a group photo said, "I had no idea how things still are down here. This has been the best week of my life."
New Orleans will recover. A dominant reason why it will is the work of the tens of thousands of such volunteers. They came and continue to come to save this city and its people. Without them, we would have drowned; with them, we will survive and thrive.
Many of these Good Samaritans belong to a phenomenon being dubbed "voluntourism"—folks of all sorts using their vacations and breaks to help those in need. Just as corporations have discovered they can do well by doing good, people are discovering the excitement and satisfaction of using time off to serve others.
You too can share this wealth! Be a New Orleans voluntourist!
Volunteering here on vacation has multiple benefits. It contributes immeasurable good to New Orleans. Though the hurricanes and flood were a year-and-a-half ago, the city needs help as much as ever. Perhaps the biggest need is repairing and rebuilding properties; tens of thousands of people still require assistance bringing theirs back.
Voluntourism also blesses the ones who give. Those pitching in treasure the value of helping people restore their devastated lives. Voluntourists also get the special satisfaction of teaming up with and learning from the other, diverse volunteers. Lasting friendships spring up. No doubt a romance or three have as well. Finally, voluntourists have a blast. Doing good not only is good, it makes for a good time. Now that's the perfect New Orleans gumbo!
Families reap special benefits from volunteering while vacationing. Children learn valuable lessons. The family bonds in unique and powerful ways. Though it will bring plenty of them, helping New Orleans will make for more than the usual family vacation's pleasant impressions and memories. It will make family history. After all, volunteers here are making American history.
Consider the Musicians' Village, which Habitat for Humanity is building in the Upper Ninth Ward. New Orleans' culture depends on native and local musicians; music is the city's blood. But many players cannot afford to return. Hence the Musicians' Village—a planned 70 affordable homes (for both musicians and non-musicians) on adjacent blocks meant to support the city's culture. And speaking of meeting people one would not otherwise: President Bush has dropped by to lend a hand and enjoy some red beans and rice with Freddy Omar (the city's best Latin singer) and others.
Numerous agencies, institutions and charities need a steady stream of muscle, skills and good hearts to help bring back this great American city. The list below will get people started on the best fit for them. The work varies, but most volunteers will be preserving and restoring homes and businesses.
Voluntourists may come for as long or as little as they wish. They also should be clear about living conditions and the safety of where they will be working and living. The invaluable contributions of groups like ACORN and Common Ground Relief have been especially fueled by college students, who swarm to the city during breaks and vacations. But folks of all ages find voluntourism the perfect vacation.