Cultural Season Ending with Stellar Shows

Classical Music, Live Theatre Remains on Spring Schedule
!
The following content has expired and is available for viewing as an archived piece of editorial. Please note that the content is not being maintained and may be out of date!
As the 2009 -10 Cultural Season in New Orleans enters its last two months, classical music and live theatre productions remain on the schedule. Broadway Across America brings the best of the Big Apple to the Big Easy with Wicked performances through April 11 and Avenue Q in June. The Louisiana Philharmonic Orchestra have at least six more concerts left in this year's schedule, and another half dozen or so stage productions are still on the board for the city's theatrical presenting organizations. Here is a rundown on what's still to come this spring:
Broadway Across America
Two shows from the 2009-10 Broadway Across America season lineup still remain on the bill that runs through June. The two remaining shows include:
Wicked
Through April 11

Subtitled "The Untold Story of the Witches of Oz," the saga of what it was like in Oz before Dorothy's arrival and the ongoing struggle between good and evil.

Avenue Q
June 8-13

The struggle of a newly arrived young man in New York and the struggles of those among whom he finds himself living in a lower income neighborhood.
Performances will be held in the evening from Tuesday through Saturday with matinees on Saturday and Sunday. Tickets are on sale at various levels and prices. Performances are staged at the Mahalia Jackson Theater for the Performing Arts.
And if you can't make one of these final performances, start thinking now about catching your favorite Broadway Shows in New Orleans next season! The 2010 -11 line-up brings even more of Broadway's best shows to New Orleans. Here's a look:
Cirque Dreams Illumination
Sept 28-Oct 3, 2010

Rain – A Tribute to the Beatles
Nov 3-7, 2010

Monty Python's Spamalot
Dec 14-19, 2010

The Color Purple
Feb 11-13, 2011

The West Side Story
Mar 15-20, 2011

Shrek – The Musical
May 31-Jun 5, 2011
For details, tickets and more information, call 1-800-218-SHOW (7469) Monday through Friday 10 a.m. to 5 p.m. Central Time. Or visit www.BroadwayAcrossAmerica.com.
New Orleans Ballet Association
Celebrating the finale of its 40th season in 2009-10, the New Orleans Ballet Association brings the finest in classical and modern footwork to the stage at the star-studded gala event, Ruby Gala Des Etoiles, where ten internationally renowned principal dancers from five of the world's most prestigious ballet companies perform ten ballet masterpieces by celebrated choreographers. It's a once-in-a-lifetime event featuring…
Paloma Herrera and Ethan Stiefel
American Ballet Theatre

Wendy Whelan and Albert Evans
New York City Ballet

Edward Watson and Leanne Benjamin
The Royal Ballet

Clairemarie Osta and Benjamin Pech
Paris Opera Ballet

Heather Ogden and Guillaume Cote
The National Ballet of Canada
This elegant evening dazzles with an exceptional program of classical masterpieces from Swan Lake and Don Quixote to masterworks by ballet legends George Balanchine, Sir Kenneth MacMillan, Jerome Robbins, John Neumeier, James Kudelka and Christopher Wheeldon. The event will also honor NOBA's lifetime board member and community visionaries, Cecile Gibson, Henrietta Hall, Dr E. Ralph Lupin and Phyllis M. Taylor, who have supported and championed NOBA's mission for more than 20 years.
Following the performance, gala chair Toni Bachmann will host 300 guests and the stars of the evening on stage, with dancing to the sounds of Jeremy Davenport and a gourmet meal prepared by celebrity chef Donald Link of New Orleans' fine restaurants Herbsaint, Cochon and Butcher. Prior to the dinner, guests will enjoy a patron party chaired by Charlotte Bollinger.
For tickets and information call 504-522-0996 or check out www.nobadance.com.
Louisiana Philharmonic Orchestra
In the early 1990's, when the old New Orleans Symphony Orchestra went bankrupt and folded, a group of the orchestra's musicians quickly revived it and transformed the Louisiana Philharmonic Orchestra into one of the few and most successful musician-run orchestras in the world. In the years since then, LPO has brought some of the world's most renowned classical musicians to the stage in New Orleans, including violinists Pinchas Zukerman and Itzhak Perlman and, most recently, cellist Yo-Yo Ma. Here's what's on tap for the remainder of the season:

Thursday, April 8
"Enigma Variations." Copland's "Quiet City," Bernstein's "Serenade" featuring soloist Vadim Gluzman on a vintage 1609 Stradivarius, and Elgar's "Enigma Variations. LPO Music Director Carlos Miguel Prieto conducts. First Baptist Church, New Orleans, 5290 Canal Blvd. 7:30 p.m.

Thursday, April 15
Dvorak Symphony No. 7. Mendelssohn's Midsummer Night's Dream Overture, Schumann's Introduction and Allegro appassionato, Mendelssohn's Capriccio brilliant, and Dvorák's Symphony No. 7. Rebecca Miller conducts; featured soloist Spencer Myer, piano. First Baptist Church, New Orleans, 5290 Canal Blvd. 7:30 p.m.

Saturday, April 17
Outdoor concert in Pontchartrain Park. Rossini – Thieving Magpie;
Smetana – BB Polka; Tchaik – Polonaise; Falla –Vida Breve: Act 2 Dance;
Borodin – Polovtsian Dances; Wagner – Ride of the Valkyries; Gilbert & Sullivan – HMS Pinafore; Offenbach – Barcarolle; Strauss – Treasure Waltz; Gershwin – Girl Crazy Overture; and Brooks/Rickets – Producers medley. Rebecca Miller conducts. Pontchartrain Park, Press Drive (opposite Southern University at New Orleans). 6 p.m.

Wednesday, April 21
"Ochsner Swing in the Oaks" outdoor concert. (Same lineup as April 17 concert). Rebecca Miller conducts. City Park. 6:30 p.m.

Saturday, May 8
"Symphonie Fantastique." Poulenc's "Gloria" and Berlioz's "Symphonie Fantastique." Carlos Miguel Prieto conducts; special guests Symphony Chorus of New Orleans with Steven Edwards, Music Director. Mahalia Jackson Theatre for the Performing Arts, Louis Armstrong Park. 8 p.m.

Saturday, May 15
"The Music of Pink Floyd." Featuring music from selected Pink Floyd albums, including Dark Side of the Moon, The Wall, A Momentary Lapse of Reason and Wish You Were Here. Brent Havens conducts; special guest Randy Jackson, lead singer for Zebra. Mahalia Jackson Theatre for the Performing Arts, Louis Armstrong Park. 8 p.m.
For tickets and information call 523-6530 or visit www.lpomusic.com.
Le Petit Theatre du Vieux Carré
Located in the heart of the French Quarter, Le Petit Theâtre du Vieux Carré has a long history as the oldest continually operating community theater in the nation. Established in 1916 and operating out of its present location since 1922, Le Petit has continued to offer a wide variety of live fare ranging from original, first-run works to lively musicals and Broadway classics. Here is what's on tap for the rest of the 2009-10 season:
[Title of Show] – An Original Broadway Show
April 8-25, 2010
A love letter to musical theatre and to the joy of collaboration, [Title of Show] is a charming new musical about two struggling young writers writing a new musical about two struggling young writers writing a new musical. The pair, along with the help of two friends, write and perform their show-within-a-show at a musical theatre festival, and along the way learn lessons about themselves as people, friends and artists.

Grey Gardens
May 6-23, 2010
A musical based on the 1975 documentary about the lives of Edith Ewing Bouvier Beale ("Big Edie") and her daughter Edith Bouvier Beale ("Little Edie"), who started off as American aristocrats and ended up the forgotten band of Jackie O's family.

The Wedding Singer
July 6-25, 2010
A hilarious, 1980's themed crowd pleaser that tells the story of Robert Hart who lives in his grandmother's New Jersey basement and whose dreams of being a glamorous singer/songwriter are replaced with a burning desire to find the right girl and settle down.

FREE Vieux Carré Matinees
Ongoing thru Spring and Summer
This collection of short films on Louisiana's rich culture and history is made possible through the collaboration of the Historic New Orleans Collection (533 Royal Street) and Le Petit Theatre. Films will be shown at the conclusion of a guided tour of the theatre for visitors between Tuesday and Saturday from 11:30 a.m – 1:30 p.m.
For tickets and information call 522-2081 or visit www.LePetitTheatre.com.
Bon Operatit!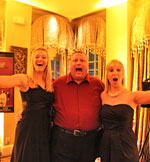 Bon Operatit!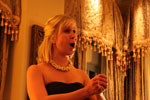 Lauren Mouney Gisclair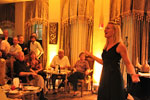 Mary Penick Akin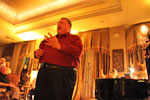 Jesse Nolan
Although the old French Opera House is long gone, the opera tradition lives on at the same site. A local ensemble calling itself Bon Operatit! has revived the great operatic tradition in the appropriately named Puccini Room at the Ramada Inn on Bourbon at Bourbon and Toulouse streets.
Consisting of tenor Jesse Nolan, mezzo-soprano Mary Penick Akin and soprano Lauren Mouney Gisclair, Bon Operatit! performs arias from some of the classic operas in the standard repertoire, plus a sampling of Broadway show tunes and other popular musical fare. They have entertained several times at the Inn on Bourbon and in other venues around New Orleans and they have a number of free performances slated at the Inn in the coming months.
From Verdi and Puccini to Rogers & Hammerstein and Andrew Lloyd Weber, Bon Operatit! is musical entertainment in the grandest New Orleans tradition. This talented trio recently released their first CD, featuring 14 songs ranging from Schubert's "Ave Maria" to "Tonight" from Bernstein's "West Side Story." It also includes arias from Verdi's "Rigoletto" and "La Traviata," Puccini's "Turandot" and "Gianni Schicchi," Delibes' "Lakmé," St. Saëns' "Samson et Dalila," Bizet's "Carmen," Strauss' "Die Fledermaus" and Offenbach's "Tales of Hoffman." In all, Bon Operatit! offers a repertoire of more than 50 classic tunes from opera to popular musicals.
All performances are free and open to the public. For a complete schedule of Bon Operatit's upcoming performances click here: www.bonoperatit.com.
For more information about Bon Operatit!, including booking for private social events, call 504-232-1046 or email celebrate@bonoperatit.com.

Southern Reperatory Theater
Located on the third level of the Shops at Canal Place, Southern Repertory Theater offers a good mix of original material and classic fare, and often serves as a venue for premiering new works by local playwrights. On the boards for the remainder of the season are the following productions:
With a Bang
March 24-April 18, 2010
A ridiculously absurd, terrifyingly comedic tale of young heroine Margaret, who finds out that her father has died…again. She's confronted by one very awkward messenger and realizes she must take on her father's mission.

The Piano Teacher
May 19-June 13, 2010
When sweet, cookie loving Mrs. K, the epitome of the caring grandmotherly piano teacher, reaches out to her old students, she unleashes a creepily dark mystery she can't quite keep in her piano bench. Mrs. K, it will keep you guessing until the very end.
For tickets and more information call 522-6545, visit www.southernrep.com or email info@southernrep.com.