2010-11 Cultural Season


!

The following content has expired and is available for viewing as an archived piece of editorial. Please note that the content is not being maintained and may be out of date!
Opera, Dance, Classical and Live Theatre Scheduled
The 2010-11 Cultural Season in New Orleans offers an exciting and widely varied selection of opera, dance, classical music and live stage productions featuring some big-name shows and artists. Broadway Across America returns for its second season in New Orleans, presenting live productions of hits that, not too long ago, lit up the marquees along the Great White Way. New Orleans Opera presents four operas in four of the major languages of the centuries-old art form. New Orleans Ballet hosts the return of the widely popular and spectacularly innovate MOMIX. Sir James Galway, one of the world's most well-known flutists, makes a triumphant return to the Crescent City with the Louisiana Philharmonic Orchestra. Our major local live theatre houses, Le Petit and Southern Rep are moving in exciting new directions as well.
These are just a few of the highlights of the upcoming season. Read on for more:
New Orleans Opera Association
Continuing a tradition that began in 1796 while George Washington was still president and New Orleans was under Spanish rule, opera is alive and well in the city once known as "The Opera Capital of North America." Despite soaring production costs in recent times, the Association can still be counted on to offer a good mix of vocal talent and colorful stagecraft year after year.
Here is the season's lineup:
Porgy and Bess
George and Ira Gershwin
Friday, October 15, 2010– 8 p.m. and Sunday, October 17, 2010– 2:30 p.m.
English language
The Magic Flute
Wolfgang Amadeus Mozart
Friday, November 19, 2010– 8 p.m. and Sunday, November 21, 2010– 2:30 p.m.
German with English translations
The Pearl Fishers
Georges Bizet
Friday, January 28, 2011– 8 p.m. and Sunday, January 30, 2011– 2:30 p.m.
French with English translations
Il Trovatore
Giuseppe Verdi
Friday, April 1, 2011– 8 p.m. and Sunday, April 3, 2011– 2:30 p.m.
Italian with English translations.
All operas are staged in the Mahalia Jackson Theatre for the Performing Arts in Louis Armstrong Park. For tickets and more detailed information about the shows call New Orleans Opera at 529-3000 or 529-2278 or log on to www.neworleansopera.org.
New Orleans Ballet Association
Celebrating its 40th anniversary last season, the New Orleans Ballet Association is the city's premier dance-presenting company. This season it is offering six performances in the Mahalia Jackson Theatre for the Performing Arts and the New Orleans Center for the Creative Arts (NOCCA). NOBA's 2010-11 schedule shapes up like this: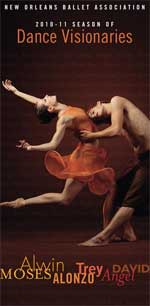 Photo by Marty Sohl
Momix
October 23 & 24, 2010, 8 p.m.
Mahalia Jackson Theater of the Performing Arts
Alwin Nikolais Centennial Celebrating 100 years of Nikolais Performed by Ririe-Woodbury Dance Company
November 19, 2010, 8 p.m.; November 20, 2 p.m. & 8 p.m.
NOCCA's Freda Lupin Memorial Hall, 2800 Chartres Street
Alonzo King's LINES Ballet
January 21, 2011, 8 p.m.; January 22, 2 p.m. & 8 p.m.
NOCCA's Freda Lupin Memorial Hall
Trey McIntyre Project
February 4, 2011, 8 p.m.
Mahalia Jackson Theater of the Performing Arts
Parsons Dance with the East Village Opera Company
April 16, 2011, 8 p.m.
Mahalia Jackson Theater of the Performing Arts
Corella Ballet Castilla y León
May 14, 2011, 8 p.m.
Mahalia Jackson Theater of the Performing Arts
For tickets and information call 522-0996 or log on to their website at www.nobadance.com.
Louisiana Philharmonic Orchestra
One of the world's preeminent flutists, Sir James Galway makes a long-awaited reappearance for LPO on March 26, 2011. Some of the world's best-known classical works will be performed as well, including all or parts of Beethoven's Fifth Symphony, Ravel's "Bolero," Handel's "Messiah," Copland's "Fanfare for the Common Man," Bernstein's Symphonic Dances from "West Side Story," Wagner's "The Ring of the Neibelung," Mahler's Symphony No. 7, Gilbert & Sullivan's "H.M.S. Pinafore," Stravinsky's "Rite of Spring," and the waltzes of Johann Strauss including the beautiful "Blue Danube."
LPO will also be premiering "The American Four Seasons," a newly commissioned piece by world-renowned New Orleans-born trumpeter Terence Blanchard on February 19, 2011
This season the 60-member orchestra will once again be performing in the Mahalia Jackson Theatre for the Performing Arts, as well as at First Baptist Churches of New Orleans, Kenner and Covington. In all, about thirty concerts will be performed throughout the New Orleans Metro Area between September 25, 2010 and May 21, 2011.
For more detailed information, including specific concert dates, locations, and ticket availability, call 523-6350 or log on to www.lpomusic.com.
Broadway Across America
Six great musicals from recent years, plus a few gems from the past, will hit the stage of the Mahalia Jackson Theatre this season, exporting a taste of Broadway from the Big Apple to the Big Easy. Here is how the coming season looks for the New Orleans leg of the Broadway Across America Tour:
"Cirque Dreams Illumination" featuring Cirque de Soleil
September 28 – October 3
"Rain" A Tribute to the Beatles
November 3-7
Monty Python's "SPAMALOT"
December 14-19
"The Color Purple"
February 11-13, 2011
"West Side Story"
March 15-20, 2011
Shrek The Musical
May 31 – June 5, 2011
For information about tickets, show times and the shows themselves, log on to www.broadwayacrossamerica.com/newOrleans/, call the ticket hotline at 1-800-218-7469, Fax 1-800-535-2929 or email NewOrleansService@BroadwayAcrossAmerica.com.
Southern Repertory Theatre
Located on the third level of the fashionable Canal Place shopping plaza in downtown New Orleans, Southern Rep offers up half a dozen productions this season, including three world premieres, one regional debut and one play "in the making."
Here is what's shaping up with Southern Rep for 2010-11:
"In the Next Room" (or "The Vibrator Play")
September 8-26, 2010
Regional Premiere
"Afterlife: A Ghost Story"
October 20 – November 7, 2010
Rolling World Premiere
Running With Scissors' "A Holiday Show"
December 3-19, 2010
World Premiere
"Bacchanal" (A New Play in the Making)
January 13-23, 2010
"Intringulis"
Winter/Spring date to be announced
World Premiere
"The Norman Conquests" (A Trilogy)
May 19-June 5, 2011
For showtimes, tickets and information call 522-6545 or go online to www.southernrep.com.
Le Petit Theatre Du Vieux Carre
One of the oldest and best-known community theatres in the U.S., Le Petit, at the corner of Chartres and St. Peter streets, has been performing in its current location since 1922. Under new management, Le Petit is offering a good mix of classic Broadway musicals and Tony Award-winning shows on the Main Stage, Off-Broadway hits on the Muriel's Cabaret Stage, new educational programming for young actors, new opportunities for young and emerging actors and playwrights, an innovative New Works Festival and the return of the much-loved Children's Corner series.
Here is the 2010-11 Le Petit lineup:
"Hairspray"
Opening September 17, 2010
"Soul Doctor"
Opening November 9, 2010
Irving Berlin's "White Christmas"
Opening December 10, 2010
"Frost/Nixon"
Opening January 28, 2011
"The Drowsy Chaperone"
Opening April 7, 2011
"Evita"
Opening June 10, 2011
"Disney's High School Musical"
Opening July 14, 2011
For more detailed information and tickets call 522-2081 or 822-7200 or go online at www.lepetittheatre.com.