Arts Groups Announce Their 2012-13 Seasons
!
The following content has expired and is available for viewing as an archived piece of editorial. Please note that the content is not being maintained and may be out of date!
Another fall, another cultural season in New Orleans and the stars are definitely coming out for this one. The New Orleans Opera Association brings back, for the third time since Hurricane Katrina, one of the greatest tenors of recent years, Placido Domingo. The Louisiana Philharmonic Orchestra is bringing back, for the second time in the past three seasons, world-renowned cellist Yo-Yo Ma.
The live theatre scene in "America's First City of Culture" will also be rockin' (and rollin') with two Broadway in New Orleans musicals set during the Golden Age of Rock & Roll. Jersey Boys, based on the Frankie Valli and the Four Seasons story, and Million Dollar Quartet, featuring all-time classics recorded by mid-'50s Sun Records artists Elvis Presley, Johnny Cash, Jerry Lee Lewis and Carl Perkins, will bring a great musical era back to life. The Jefferson Performing Arts Society kicks in its own contribution to the genre with the return of Buddy, The Buddy Holly Story, honoring one of the greatest pioneers of the rockabilly sound that originated in the American South.
And, bringing the American music scene even closer to the present, Theatre 13 at Rivertown Repertory Theatre presents The Class of '70 Something, a tribute to the popular songs of that decade. Then Broadway in New Orleans' production of Flashdance brings the rock scene up to the 1980s.
Here is a rundown of the shows being offered in the 2012-2013 Cultural Season.
Broadway Across America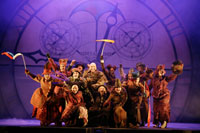 Wicked
Still known as Broadway Across America but locally dubbed Broadway in New Orleans, this traveling showcase of Broadway hit musicals returns to the Mahalia Jackson Theater for the third straight year while still awaiting the reopening of the Saenger Theatre on Canal Street.
For the 2012-2013 season, the Broadway series will feature five regularly scheduled shows, plus two added, non-subscriptions features between September 2012 and early June 2013. The shows for the coming season are as follows:
*Stomp


September 14-16, 2012

Flashdance


February 26-March 3, 2013

Les Miserables


October 30-November 4, 2012

Million Dollar Quartet


April 16-21, 2013

Mary Poppins


December 18-23, 2012

*Wicked


May 8-June 2, 2013

Jersey Boys


January 8-27, 2013
*Season Special; not included in regular ticket package

For more information about tickets, show times and the shows themselves, patrons can visit BroadwayInNewOrleans.com or call the Broadway Across America Season Ticket Hotline at 1-800-218-SHOW (7469) during extended renewal hours of Monday - Friday, 9 a.m. to 7 p.m., Saturday, 11 a.m. to 4 p.m. Fax 1-800-535-2929 or visit www.neworleans.broadway.com.
New Orleans Opera Association
Continuing a tradition that began in 1796 while George Washington was still president and New Orleans was under Spanish rule, opera is alive and well in the city once known as "The Opera Capital of North America." Despite soaring production costs in recent times, the Association can still be counted on to offer a good mix of vocal talent and colorful stagecraft year after year.
Highlighting the 2012-2013 Opera Season will be the return appearance of renowned Spanish tenor Placido Domingo. A gala concert celebrating 50 years of Domingo's performances with New Orleans Opera will be held on October 12, 2012. He will be performing with some of the world's leading operatic talent, including Stephanie Blythe and John Relyea. They will be joined by the New Orleans Opera Chorus and accompanied by the Louisiana Philharmonic Orchestra for a total musical evening conducted by Robert Lyall. This special event is being hosted by New Orleans Mayor Mitch Landrieu and Academy Award nominee, actress Patricia Clarkson, a native of New Orleans.
The Gala will be held on the Placido Domingo Stage of the Mahalia Jackson Theater for the Performing Arts in Louis Armstrong Park. Currently, purchasing tickets to this event is a benefit available only to subscribers. To become a new subscriber go to this link: www.choicesecure03.net/mainapp/eventschedule.aspx?clientID=newoop.
All operas are accompanied by the Louisiana Philharmonic Orchestra, conducted by Maestro Robert Lyall. They are presented in their original languages with English translations projected above the stage. The operas are:
Il Barbiere di Siviglia
(The Barber of Seville)
Gioachino Rossini
Friday, November 16, 2012 at 8 p.m.
Sunday, November 18, 2012 at at 2:30 p.m.
Italian with English translations

Madama Butterfly
Giacomo Puccini
Friday, April 12, 2013 at 8 p.m.
Sunday, April 14, 2013 at 2:30 p.m.
Italian with English translations

Samson et Dalila
(Samson and Delilah)
Camille Saint-Saens
Friday, March 15, 2013 at 8 p.m.
Sunday, March 17, 2013 at at 2:30 p.m.
French with English translations
All operas are staged in the Mahalia Jackson Theater for the Performing Arts in Louis Armstrong Park. Single tickets go on sale August 15. For tickets and more detailed information about the shows call New Orleans Opera at 529-3000 or 529-2278 or log on to www.neworleansopera.org.
New Orleans Ballet Association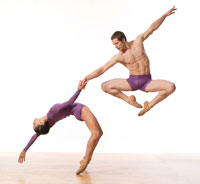 Aspen Santa Fe Ballet
Photo by Lois Greenfield
Founded in 1969, the New Orleans Ballet Association is the city's premier dance-presenting company. Each season it traditionally offers 5-6 performances in the Mahalia Jackson Theater for the Performing Arts and the New Orleans Center for the Creative Arts (NOCCA) and occasionally other venues. In recent years NOBA has presented such distinguished and internationally renowned dance companies as the Bolshoi Ballet, Alvin Ailey Dance Company, Parsons Dance, MOMIX and the Joffrey Ballet.
NOBA launches its 2012-2013 season of dance with five world-class companies, each led by a "mover and shaker" on the American dance frontier. In the spirit of American innovation in the field, each of the five companies represents both the iconic history and new directions of dance in America. The performances for the coming season are as follows:
Pilobolus
October 20, 2012 at 8:00 p.m.
Mahalia Jackson Theater

Aspen Santa Fe Ballet
February 23, 2012 at 8:00 p.m.
Mahalia Jackson Theater

Ballet Hispanico with the Afro Latin Jazz Orchestra
December 8, 2012 at 7:30 p.m
Mahalia Jackson Theater

Martha Graham Dance Company
March 23, 2012 at 8:00 p.m.
Mahalia Jackson Theater

Jessica Lang Dance


January 18-19, 2012 at 2:00 p.m.
January 20, 2012 at 2:00 p.m.
NOCCA's Freda Lupin Memorial Hall
(Co-presented with The NOCCA Institute)
For updated details, including tickets and information, call 504-522-0996 or visit their website, www.nobadance.com.
Louisiana Philharmonic Orchestra
Rising from the ashes of the now-defunct New Orleans Symphony Orchestra in the early 1990s, the Louisiana Philharmonic Orchestra went on to become a model of what activist musicians can accomplish when confronted with a crisis. After the collapse of its predecessor, the musicians quickly regrouped, formulated a game plan and organized a new orchestra that kept the long tradition of classical music alive in New Orleans.
In recent years LPO has attracted such world-renowned classical performers as cellist Yo-Yo Ma; violinists Itzhak Perlman, Pinchas Zukerman and Joshua Bell (twice); flutist James Galway (twice) and many others. This year's "celebrity performer" is once again multi-Grammy Award-winning cellist Yo-Yo Ma who made his New Orleans debut in 2010 to a sold-out house. He will be performing Elgar's Cello Concerto on Friday, October 26 at 8 p.m. in the Mahalia Jackson Theater for the Performing Arts in Louis Armstrong Park.
This season the 60-member orchestra will once again be performing in the Mahalia Jackson Theatre for the Performing Arts and various other venues in and around New Orleans. In all, about thirty concerts will be performed throughout the New Orleans Metro Area between September 22, 2012 and May 16, 2013. The LPO also accompanies the New Orleans Opera Association's three mainstage productions during the '12-'13 season. LPO concerts are conducted by Maestro Carlos Miguel Prieto and a variety of other guest conductors.
For more detailed information, including specific concert dates, locations, and ticket availability, call 523-6350 or log on to www.lpomusic.com.
Le Petit Theatre
Temporarily shuttered during the 2010-2011 season, Le Petit Theatre du Vieux Carre is expecting to reopen in January 2013, newly renovated and with a first-class Dickie Brennan restaurant next door. One of the nation's oldest community theatres, founded in 1919, Le Petit has always been on the cutting edge of local, live stage entertainment. In addition to Broadway classics and revivals, Le Petit has been a showcase for locally written and directed plays, musicals, readings and one-person shows, especially during the annual Tennessee Williams Literary Festival. The theatre is in the heart of the French Quarter at 616 St. Peter Street, opposite Jackson Square and the Cabildo.
The shows announced for next season include the following (all dates TBA):
Lombardi by Eric Stevenson, a play based on the legendary football coach, scheduled to coincide with the New Orleans-hosted Super Bowl
Arthur Miller's Death of a Salesman
Andrew Lloyd Weber's Joseph and the Amazing Technicolor Dreamcoat
Love, Loss and What I Wore (Louisiana premiere)
The Tennessee Williams Literary Festival will return to Le Petit in March. Specific dates to be announced later.
Full details about LePetit's season, including performance dates, will be made known once they become available. For those who want to stay informed, the box office can be reached at 504-522-2081 or by fax at 504-524-9027. The email address is boxoffice@lepetittheatre.com and the website is lepetittheatre.com.
Southern Repertory Theatre
Founded in 1986, Southern Rep's mission is to develop and produce new plays that reflect the diversity of New Orleans, and to provide their audiences with professional theatre of the highest artistic quality and achievement. Also, as part of their mission, Southern Rep strives to establish a creative working environment that nurtures theatre professionals, both onstage and through educational and outreach programs.
During the 2011-2012 season, Southern Rep lost its lease at the Canal Place Theatre where it had been housed since its founding. The shows scheduled for the remainder of the season were performed at various venues around the city, the last of which was at the Mid-City Theatre in New Orleans' Mid-City neighborhood. The Mid-City Theatre is again expected to host Southern Rep productions during the 2012-2013 season, but the production schedule has not yet been released.
Those wishing to find out more about Southern Rep productions for the coming season are advised to call Mid-City Theatre at 504-488-1460 or email them at info@MidCityTheatre.com. The website is www.midcitytheatre.com.
Jefferson Performing Arts Society
Celebrating its 35th season as Jefferson Parish's premiere performing arts organization, JPAS annually stages a mix of live theatre (usually musicals), dance, classical music and at least one mainstage opera and occasionally an operetta. It currently operates out of two theaters, one in Metairie on the East Bank of Jefferson Parish and the other in Westwego on the West Bank.
Here is the JPAS lineup of major productions for the 2012-2013 season:
The Full Monty
September 29-October 7, 2012
Jefferson Performing Arts Center

Driving Miss Daisy
October 5-14, 2012
Teatro Wego! Theatre

Frost/Nixon
October 26-November 4, 2012
Westwego Performing Arts Theatre

Disney's Alladin Jr.
November 30-December 9, 2012
Westwego Performing Arts Theatre

A Celtic Cristmas
December 15-16, 2012
Westwego Performing Arts Theatre

Avenue Q
January 25-27, 2013
Westwego Performing Arts Theatre

The Color Purple
February 22-March 3, 2013
Westwego Performing Arts Theatre

Buddy: The Buddy Holly Story
March 22-31, 2013
Jefferson Performing Arts Center

Disney's Camp Rock: The Musical
March 29-April 7, 2013
Westwego Performing Arts Theatre

One Great Moment in Time
April 19-21, 2013
Westwego Performing Arts Theatre
For more information on tickets for JPAS productions visit their website at www.jpas.org or call 504-885-2000.
Rivertown Repertory Theatre
Founded in the late 1980s, Rivertown Repertory Theatre in the Rivertown section of Kenner, evolved from the Kenner Little Theatre founded in the early 1970s and which grew into Kenner Community Theatre. Originally begun as a venue for children's productions and acting workshops, Rivertown came into its own as a presentation facility for primarily adult fare by the early '90s.
Recently Rivertown Rep came under the management of Theatre 13, founded in 2009 by longtime director Gary Rucker and performer/choreographer Kelly Fouchi. The 2012-2013 season at Rivertown Rep will offer the following productions:
Legally Blonde


September 7-23, 2012

Noises Off


March 8-24, 2013

Boeing Boeing


November 2-18, 2012

Gypsy


May 10-26, 2013

The Class os '70 Something


January 11-27, 2013
For tickets and other information visit Theatre 13 at their website www.theatre-13.com.