Artist Ralston Crawford at NOMA

June 22-October 14, 2012
!
The following content has expired and is available for viewing as an archived piece of editorial. Please note that the content is not being maintained and may be out of date!

When:
June 22-October 14, 2012
Where:
The New Orleans Museum of Art
More Info:
Click Here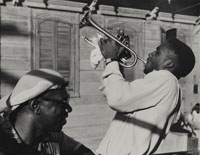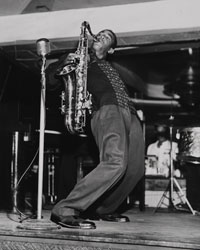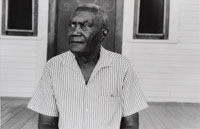 The jazz scene in New Orleans has long been a favorite subject for professional artists and photographers to capture in visual imagery. Ralston Crawford (1906-1978) did both, in equal measures of excellence.
In an exhibition that opened at the New Orleans Museum of Art on June 22, more than 150 works of Crawford's went on display. These include photographs, prints, paintings, drawings and films, many of which have never before been exhibited. A frequent visitor to New Orleans, like many artists before and after him, Crawford was fascinated by the city's jazz scene and it dominated much of his creative output in the years after World War II.
The exhibition, titled "Ralston Crawford and Jazz," showcases Crawford's strong personal connection to New Orleans and the way he envisioned and portrayed the intersection of musical and visual aesthetics. His photographs, lithographs, paintings and films of the city's musicians, cemeteries, weathered buildings, signage, street scenes, docked boats and other indigenous subjects capture the essence of the New Orleans atmosphere in the era in which he flourished; the 1950s and 1960s.
Among the individual pieces on display are photos of some of the city's top-name music clubs, a set of proofs for the New Orleans Living Legends record series featuring Crawford's artwork on the cover, five short silent films showing scenes from around the city, candid photos of some of the top jazz musicians still living at the time and much more. The exhibition will run through October 14.
Admission to the New Orleans Museum of Art is $10 for adults, $8 for seniors (65 and up) and students, $6 for children between 7 and 17 and is free for children 6 and under. Admission is free on Wednesdays, thanks to a sponsorship by the Helis Foundation. The museum is open from 10:00 a.m.-5:00 p.m. Tuesday, Wednesday, Thursday, Saturday and Sunday, and until 9:00 p.m. Friday evening.
NOMA is located in City Park, at the end of Esplanade, City Park and North Carrollton avenues, and also at the terminus of the North Carrollton Branch of the Canal Street Streetcar Line. For more information about NOMA call (504) 658-4100 or visit their website, www.noma.org.