NCAA Women's Final Four

April 7-9, 2013
!
The following content has expired and is available for viewing as an archived piece of editorial. Please note that the content is not being maintained and may be out of date!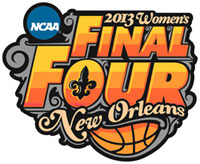 When:
April 7-9, 2013
Where:
New Orleans Arena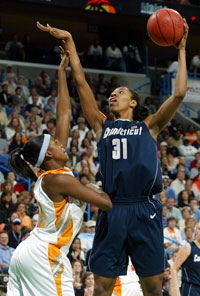 Once again New Orleans will be hosting an NCAA Final Four Tournment when the top women's college teams come to town from April 7-9.
This will be the third time New Orleans has hosted a Women's Final Four since the series began in 1982 and the second time for the Arena. Previous Women's Final Fours held here were in 1991 at the UNO Lakefront Arena and 2004 at the New Orleans Arena.
The 1991 contest was won by the Tennessee Lady Volunteers over the Virginia Cavaliers, 70-67 in a thrilling overtime cliffhanger, one of only two women's championship games ever to go into OT. The 2004 championship game was won by Connecticut's UCONN Huskies over the Lady Vols, 70-61. This year's reigning champions are the Lady Bears from Baylor University who made history by becoming the first major women's college team to go 40-0 in a season. In the 2012 championship game, played in Denver, Colorado against Notre Dame, the Lady Bears romped over their South Bend Fighting Irish rivals 80-61.
On April 7, after the elimination brackets are down to the last four teams, the tournament will come to the New Orleans Arena. The two winners that day will play for the National Championship on Tuesday, April 9 at 6:30 p.m. Central Daylight Time.
Tickets for the Final Four can be ordered now through the NCAA's Final Four website. The web address is www.ncaa.com/womens-final-four.
"Tourney Town" Entertainment
For three days, leading up to and including the day of the final game, "Tourney Town" will feature free live entertainment in the vicinity of the Arena. There will be non-stop programming such as concerts by national recording artists, fan favorites like the NCAA Women's Final Four Pep Rally and AT&T Mascot Challenge, performances by basketball skills entertainers, a talent show featuring local acts and celebrity judges, emcee-hosted fan contests for great prizes, appearance and autograph sessions with sports celebrities and sponsor-based entertainment programming with giveaways.
The Tourney Town schedule is as follows:
April 6: 10 a.m - 7 p.m.
April 7: 10 a.m. - 5 p.m.
April 9: 3 - 7 p.m.
On Sunday, April 7 singer/songwriter Taio Cruz will perform at 4 p.m.
Other Tourney Town entertainment offerings include three Fan Zones, featuring games, sweepstakes, autograph sessions with celebrity athletes and opportunities to win tickets to the Women's Final Four games. Tourney Town sponsor, Coke Zero, offers free refreshments. For more Fan Zone information click here: http://www.ncaa.com/womens-final-four#!tourney_town.
4Kay Run
On Saturday, April 6 at 8 a.m. runners, walkers and even pets are invited to participate in the sixth annual 4Kay Run. This 4K (2.49 mile) fun run/walk is held in honor of the late NC State head women's basketball coach Kay Yow. Proceeds from the 4Kay Run will benefit cancer research through the Kay Yow Cancer Fund. The Kay Yow Cancer Fund is a 501(c) (3) charitable organization committed to the fight against women's cancers by raising funds for scientific research, assisting the underserved and unifying people for a common cause.
In-person registration begins at 6:30 a.m. and the runners take off from Center Stage at Tourney Town. For online registration go to this website:

https://www.planningpoint.net/V2/Registrations/index.cfm?EventID=1911.

For all other Women's Final Four events go to www.ncaa.com/womens-final-four#!event_news.