Leah Chase Exhibit at NOMA

April 24-September 9, 2012
!
The following content has expired and is available for viewing as an archived piece of editorial. Please note that the content is not being maintained and may be out of date!

When:
April 24-September 9, 2012
Where:
The New Orleans Museum of Art
Cost:
$10 adults, $8 seniors/active military/students with valid ID, $6 children (7-17), FREE children (6 and under). Wednesdays are FREE for everyone.
More Info:
Click Here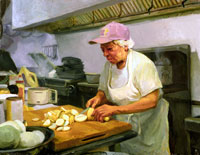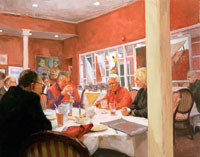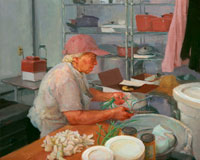 One of New Orleans' most iconic chefs in a city internationally noted for them is Leah Chase, longtime proprietor of Dooky Chase restaurant, a landmark in the now-famous Treme neighborhood. A pillar of the New Orleans community, having contributed in countless ways to the cultural fabric of the city and a talented and tireless chef, Chase is now the subject of a series of paintings showing at the New Orleans Museum of Art through September 9, 2012.

The exhibit, titled "Leah Chase: Paintings by Gustave Blache III," depicts Chase in a wide variety of un-posed vignettes. She is seen stirring her stirring culinary concoctions, ordering supplies, greeting restaurant guests and engaged in a wide variety of other activities at the establishment, many of which show her in her signature pink baseball cap. The exhibit honors Chef Chase for her lifelong dedication to the culinary arts and to the betterment of her community. There are 20 paintings in the series, all created by New Orleans artist Gustave Blache III and on view in NOMA's second floor Louisiana Galleries.

A cookbook author and matriarch of a talented family (daughter Leah and granddaughter Chase Camata are renowned singers), Chase began working at Dooky Chase's after her 1945 marriage to Edgard "Dooky" Chase Jr., the son of the original owner. During the Civil Rights Movement, the restaurant was renowned as a gathering place for civil rights activists and community leaders, including Dr. Martin Luther King Jr. Renowned singer, composer and pianist Ray Charles was a frequent guest whenever he was in New Orleans. Famed for both her expertise in the kitchen and a lifelong advocacy of the arts, particularly by African American artists, Chase is an honorary lifetime trustee of NOMA.

Blache spent countless hours sketching and photographing Chase at her restaurant, capturing the intimate moments that form the subject of his finished portraits. The exhibition provides an authentic view into Chase's life's work. "Cutting Squash," featured in the exhibition, was recently acquired by the National Portrait Gallery in Washington, D.C.

NOMA is located in colorful, historic City Park, at the end of Esplanade Avenue and just across Bayou St. John, minutes from downtown New Orleans. Visitors can also travel to NOMA via the North Carrollton Avenue Branch of the Canal Streetcar line. NOMA's hours of operation are Tuesday through Sunday from 10 a.m. to 5 p.m. Museum Admission is $10 adults, $8 seniors and active military and $6 children (7-17). Children 6 and under are free and university students with valid ID receive $8 admission. Wednesdays are free admission days for everyone, courtesy of the Helis Foundation.

For more information call (504) 658-4100 or visit the NOMA website at www.noma.org.