Download "Historic Mansion" Image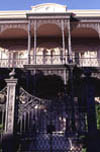 Historic Mansion
Image Size: 996 px x 1512 px
Resolution: 300 dpi
Filetype: .tif
Filesize: 4.32 MBs
Photographer: David Richmond
Must Credit: David Richmond and NewOrleansOnline.com
Download High Resolution Image
This requested photograph is offered to journalists and may not be used for any purpose other than non-commercial media coverage and promotion of such coverage, non-commercial broadcast programming and promotion of such coverage, and non-commercial internet viewing.
NOTMC photos are licensed for journalists to use in articles only. If you are bringing a group or convention to New Orleans, please contact the convention visitors bureau for photos and additional promotional assistance. Email Tara LeTort at: tletort@neworleanscvb.com.
Please note there is no fee for use of the images, however, we do require that you credit David Richmond and NewOrleansOnline.com for the use of this photograph.
Please provide the following information: