Bourbon Street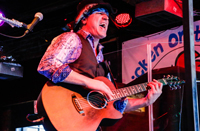 Bourbon Street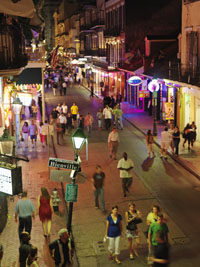 Bourbon Street at Night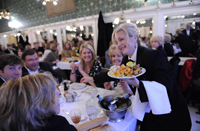 Galatoire's Restaurant
Pat O' Briens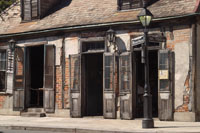 Jean Lafitte's Blacksmith Shop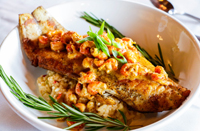 Everyone knows that this famous French Quarter street is the perfect place to host your bachelor party, birthday or girls night out. Bourbon Street is loaded with the best Burlesque Clubs, DJs, bars and endless celebration opportunities. But there is also another side to Bourbon, steeped in history, folklore and beauty that dates back to the early 18th century.
History
In one of the oldest cities in America, Bourbon Street is rich with historic venues, social tales and iconic buildings. The street dates back to 1798, when New Orleans was founded by Jean-Baptiste Le Moyne de Bienville. Also known as "Rue Bourbon," this monumental street sits at the heart of the French Quarter extending 13 blocks from Canal St. to Esplanade Avenue.
Points of Interest
One of the most luxurious spots on Bourbon Street, The Royal Sonesta Hotel, opened in 1969 but the hotel's site dates back to 1721, when Adrien de Pauger first laid out the city of New Orleans. The land once contained stables, houses and even a brewery. The architectural style of the hotel is unique to New Orleans, as the exterior was designed to look like a typical 1830s row of houses.
Another famous luxury spot on Bourbon is Galatoire's Restaurant, one of New Orleans' oldest and most popular restaurants. Founded by Jean Galatoire in 1905, Galatoire's specializes in French Creole cuisine and is the French Quarter's hot spot for lunch on Fridays.
Iconic Bars
A favorite stomping ground for both visitors and locals is Jean Lafitte's Blacksmith Shop located on the corner of Bourbon Street and St. Phillip Street in a creole cottage. The walls of this bar and restaurant are full of legends, mystery and days of old New Orleans. The building itself was built sometime before 1772 and is said to be where the Lafitte brothers opened their blacksmith shop as a façade so they could carry out their privateer efforts.
Another cultural staple of Bourbon Street is The Old Absinthe House building, which was originally built in 1806 as a family-owned importing firm. As years went on, the ground floor became a saloon where in 1874 mixologist, Cayetano Ferrer, created the famous Absinthe House Frappe. Today, you can still experience this celebrated drink. The decorative marble fountains that were used to drip cool water over sugar cubes into glasses of Absinthe can still be found in this historic bar.
The intersection of Bourbon Street and St. Ann Street begins the section of Bourbon that caters to New Orleans' thriving gay community. Lafitte-In-Exile is the oldest gay bar in the country and Tennessee Williams was a frequent visitor during his time in New Orleans.
Live Jazz on Bourbon
With a walk down Bourbon Street you are bound to hear music on every corner that will make you want to dance the night away. But if you're looking for some good old-fashioned jazz, you'll find it at Fritzel's European Jazz Club. Located in an almost 200 year-old building, Fritzel's hosts live traditional jazz performances on every night of the week!
Getting There
Bourbon Street is an easy walking distance from any point in the French Quarter, and just steps away from the popular Frenchmen Street in the Marigny/ Bywater.
If you're coming from Uptown, you can take the St. Charles Streetcar and get off at Canal Street. Then walk just a few blocks down and you'll walk right into Bourbon Street.
For more information on the world-famous Bourbon Street, check out the street's website at www.bourbonstreet.com.