Bike Routes in New Orleans
With colorful shotgun houses, incredible mansions, parks, streetcars, and gardens, there's no shortage of sights to see in New Orleans, and every neighborhood has something different to show you. Take advantage of the Crescent City's flat terrain and gorgeous scenery with a bike ride throughout the city.
There are tons of great bike tours offered with different routes and themes. And if you feel like taking your own adventure, renting a bike is easy to do here.
Here are some go-to guides for bike routes in NOLA to take in as much as possible of all this city has to offer:
St. Charles Avenue
Explore some of the most popular and busy neighborhoods in New Orleans with a bike ride along historic St. Charles Avenue. Start your ride at Lee Circle and head uptown along St. Charles as far as you'd like. You'll be able to see beautiful and bustling areas, like the Arts District and the Garden District and ride along the famous New Orleans streetcar line.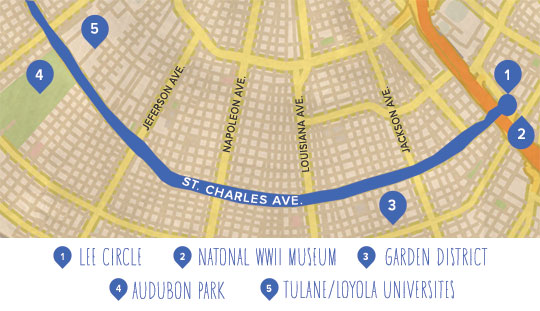 Audubon Park
For a quick and easy bike ride surrounded by greenery, oak trees, and Spanish moss, look no further than the Audubon Park bike trail.
Neighborhood: Uptown
Distance: 2.1 miles
Highlights: Breeze through the massive live oaks, Audubon Gulf course and local playgrounds with easy access to Audubon Zoo, Tulane and Loyola Universities and the Fly.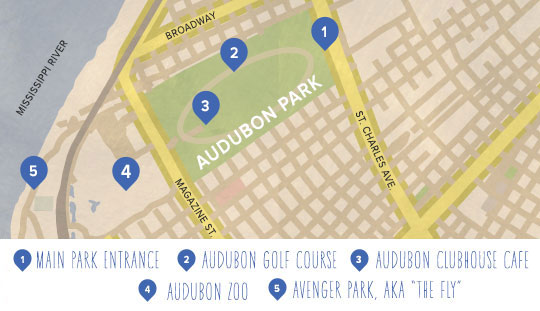 City Park
Take a spin around four miles of bike paths in City Park. Ride from Bayou St. John to Lake Pontchartrain, or take a shorter path around the beautiful Big Lake and Festival Grounds.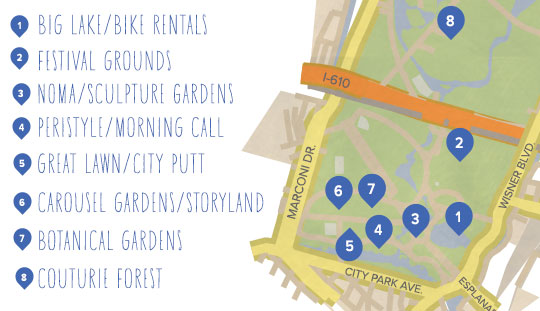 Lafitte Greenway
Linking the neighborhoods fromTreme to Lakeview, the Lafitte Greenway is the perfect bike path to learn about each neighborhood's culture and history while supporting a sustainable community space.

Distance: 2.6 miles
Highlights: This bicycle & pedestrian trail/green corridor provides an easy passage way from Armstrong Park to City Park, connecting all locations in between.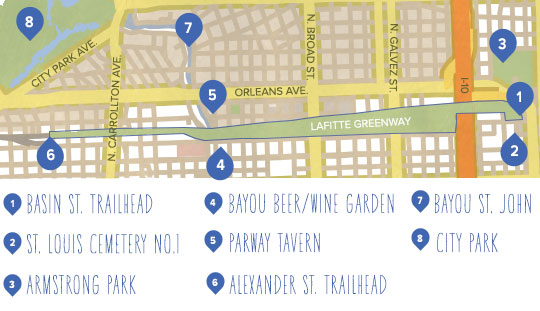 Crescent Park
Just past the charming Jackson Square and French Market, Crescent Park stretches along the Mississippi River, providing unparalleled views and access to the water.
Neighborhood: Faubourg Marigny/Bywater
Distance: 1.4 miles
Highlights: This route is the perfect way to transition from the French Quarter to the Bywater, with green space, views of the water and close proximity to Dr. Bob Art Gallery and the famous Elizabeth's restaurant, as well as Bacchanal, the ultra-charming al fresco wine bar. Make sure to check out the view of the city from the Piety Street Wharf.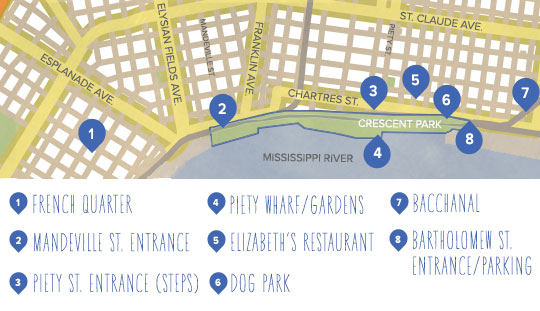 Lakeshore Drive
A popular path for training and long-distance biking, Lakeshore Drive provides a traffic-free, waterfront path and the opportunity to explore the Lakeview area.
Neighborhood: Lakeview, Gentilly
Distance: Up to 15 miles along the lakefront
Highlights: Lakeshore Drive offers gorgeous views of the lake, as well as a number of waterfront seafood restaurants. You'll also find many great spots for picnics, fishing and resting along the way.